The Mad Scientists and their Son-Bots Costume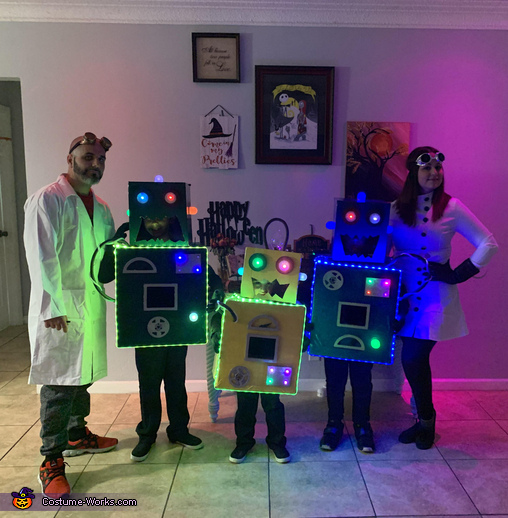 The Scientists with their creations!
More views:
(click to enlarge)
A word from Christina, the 'The Mad Scientists and their Son-Bots' costume creator:
Hello Judges :),

My name is Christina Fernandez and I am happily married to my extremely creative husband, Racel Fernandez. We are the proud parents of 3 amazing boys Dylan, Jake and Jaysen. We take Halloween very serious an i'd like to think it's the time of year we're the closest. We deck out our house and always put our brains together to top past years costumes. I always hear everybody's comments about how crazy I am to take these kind of things serious and why do I stress myself out the way I do but I don't let it get to me. The reason I do it is so my kids can remain kids for as long as possible, it's so they grow to love Halloween the way we do and pass it along to their children, it's for the pictures and the memories because at the end of it all it's the only things that remain. I want my boys to think...Wow, our parents are the coolest and always make these moments so special. It feels so amazing when i see my boys proudly parading in their costumes, in full character with the obvious look of satisfaction on their face, i know that we've been successful. Our neighbors loved their costumes! They stopped us every few houses just to take our pictures. Some people even stopped in their cars and asked to take pictures. Everyone was so impressed with the candy slots and loved shoveling handfuls of candy in them. They kept asking where we bought the robots costumes and they couldn't believe when we told them that we built them. The boys love everything Science and they're just like us. We had a Halloween Pajama party about 2 weeks ago and we did some costume planning. The only thing we knew was that we wanted the costumes to light up. After a few days and lot of brain storming we decided on Robots. Originally we wanted to make 5 robots but due to Jaysen getting really sick last week we lost a week of time. This means we built the robots in the 3 days before Halloween.The boys each drew their own robot. The robots are made of cardboard boxes from lowes and home depot. Racel cut them custom to each boys size. We used spray paint in their favorite colors green, blue and yellow. I also used metallic silver for the panels and eyes. The panels, eyes and tube sticking out the side of the boxes are made of cos play foam from jo-ann fabrics. The lights are all LED and are all battery operated. On the top of yellow-bots head is a clear bulb shaped plastic Christmas ornament. The bulb unscrews from the bottom, I inserted an LED balloon light(it also has a cos play foam tube surrounding it). The balloon lights were also used for the eyes and the panels. The small bolt shape lights on green-bot and blue-bots heads and all bodies are actually mini nights lights with switches. The holes in the middle of the bodies are surrounded by foam and serve as a candy slot. The candy is caught by another box inside the main box. The main body box opens in half by the side and were shut closed by mini zip ties. Although, we would have loved to have been parent-bots, Racel and I decided to be the mad scientists that created these wonderful son-bots. Did the boys take a few spills and look like a pinata busting open when they hit the bottom, yes. The boys were such trooper ti walk around in these uncomfortable costumes and I know they did it because they loved every ones reaction. We truly hope you guys love these costumes as much as we do. We're very proud of our family and always get super creative together to make something memorable. Thanks for your time and Happy Halloween!