The Lego Family Costumes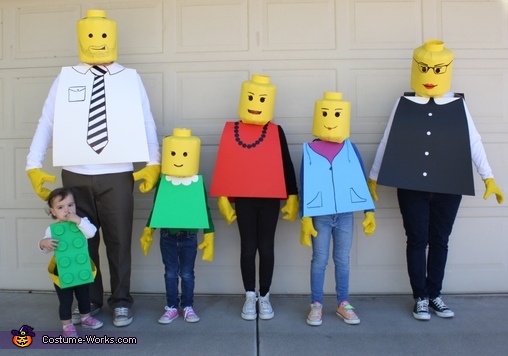 Lego Family
More views:
(click to enlarge)
A word from Diana, the 'The Lego Family' costume creator:
We love Halloween! We created a monster many years ago by setting the bar high in the costume department with our kids. As a family we've done Wizard of Oz, Toy Story, Pinocchio, Peter Pan, Peanuts, Wreck It Ralph, and Nintendo characters. Indeed we have assembled and created quite the array of homemade costumes! To them, Halloween means making your own costume, mom and dad dressing up and we must always be a theme. We always have such a great time brainstorming and creating these costumes with our girls. Having a family of all girls does make things a little tricky. Princesses and girl characters would get fought over so we have always been very creative in our themes so that everyone is excited and happy. To add to the trickiness, we have also had to keep to a very strict budget. My husband was laid off from his job last year and unfortunately had to take a very large pay cut at his new job. The past two halloweens have been difficult as we have tried to continue our family tradition for our girls. But with a little extra work and creativity we have managed to pull off some of our best family costumes on the tightest of budgets. This year's family costume cost was about $13.50 TOTAL! Proof that you don't need to spend a fortune to have a Happy Halloween!

Somehow every year as we brainstorm there is always one idea that sticks out that we all agree on and say, "YES that's the one!" My husband was actually the one who suggested the LEGO family theme this year. At first I was hesitant as I thought of how difficult making all those lego heads would be, but after seeing a prototype my husband made out of a sheet of paper, I was SOLD!

We used nothing but posterboard, felt, sharpies and duct tape! These were our cheapest costumes ever, which was great since our budget has been extra tight! Each lego head was made with one yellow piece of posterboard. My husband cut and measured strips along the top and bottom of the posterboard, he then measured and drew on the faces while I cut out holes for the eyes and mouths. The posterboard was then curved to form a cylinder and secured with duct tape. The strips were then collapsed down creating a flat surface on top. Lower strips were cut shorter creating a flat surface and an opening for our heads. Final touch for the heads were the smaller ring made from extra posterboard taped to the top of the heads!

The bodies were made from posterboard as well. We measured and cut them in the style of a sandwich sign. I designed the details of the bodies and my husband artistically hand drew each detail added to the bodies.

The hands were made from yellow felt. I measured every hand and sewed square-ish gloves for everyone.

Our baby lego brick was the easiest of the costumes. We took the lid off of our kids' duplo lego box and attached straps made from duct tape to it. It was the perfect fit for our baby girl, although she couldn't sit without it covering her face, ha ha!!