The Grinch and Cindy Lou Who Costume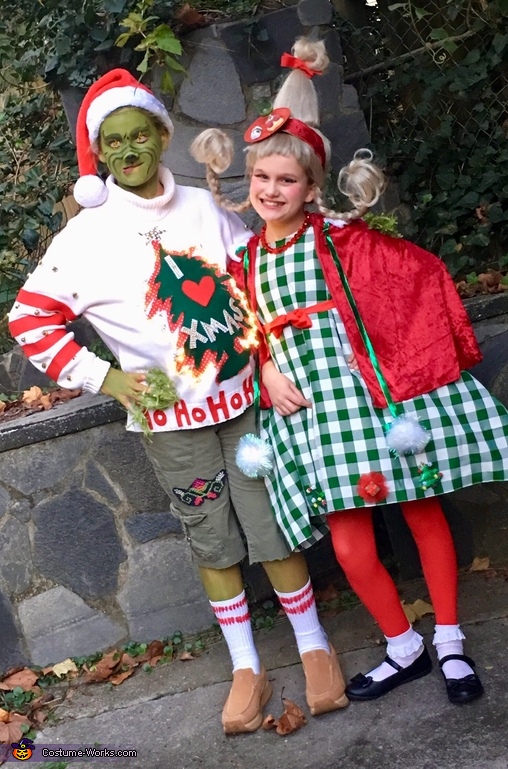 The Grinch and Cindy Lou Who Costume
A word from Emilee, the 'The Grinch and Cindy Lou Who' costume creator:
Cindy Lou=Peyton 9yo
The Grinch=Ella 11yo
Cindy Lou is wearing a tablecloth I cut a hole in the middle of for the head. Glued Christmas barrettes around perimeter. Used an old red riding hood cape & Santa Claus costume to make her cape plus ribbon & Pom-poms from the Target dollar section. I bought the wig off of amazon & then sprayed it light brown& added red ribbons. Covered an old headband w/red ribbon & then glued a plate(from Goodwill), a doll house sized knife, a chocolate snowman & butter cookie(from Tuesday Morning) & a mini cordial glass (from Goodwill)to it. Grinch is wearing garage sale cargo pants that I cut & then cut & glued pocket design from an old Gymboree sweater. Dadís socks w/red magic marker, shoes from Goodwill. Off white sweater from thrift shop- used stick on felt, wrapping paper, jingle bells, Christmas lights to decorate Grinchís sweater. Used a faux fur white pillow from Homegoods - cut the fur off, painted green & glued to plastic Halloween fingernails from Target dollar section. Pillow stuffing used for Grinchís belly. Used face paint for face & body.