The Gods of Egypt Costume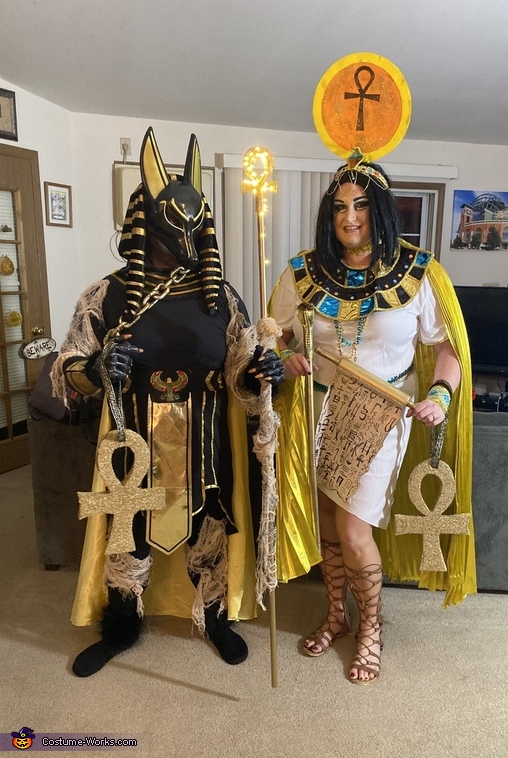 The gods of Egypt
More views:
(click to enlarge)
A word from Natasha, the 'The Gods of Egypt' costume creator:
This is my husband and I wearing our homemade Gods of Egypt costumes. Every year we make a new couples costume for ourselves to wear. This year we decided to do an Egyptian theme since we love history so much and thought it would be unique and entertaining. We came up with the idea to be gods instead of the typically thought of, cleopatra and pharoah ideas. My husbands character is Anubis and I am Ra- the god of the sun. Our entire two costumes cost around $250 to make total between all of the fabrics and items to create our props with. Most everything was hand made.

Ra costume-white dress was made out of white fabric and gold piping- a simple half day to make that. Easy start. I then made my collar out of a black placemat from the dollar store- cut it and added fabric squares, trim, and gems by hand. My belt is a sash of a yard of fabric that I found in the kids fabrics at the fabric store. I made my cuffs from three fabrics and added gems. The adhere with Velcro I sewed in them. I made my huge sun crown with poster boards , paints, and glitter. I adhered it to a headband using pipe cleaners and wood dowels on the backside to mount it and weight it down. That took me three nights alone. The jeweled veil was made from my hand loom and beads and gold jewelry chains also from the fabric store. I bought the cobra head wrap but did add gems to it. I then added my own gladiator sandals I already owned to wear as shoes. I made my wings from gold fabric and piped the seams. That took several nights to do so that was a challenge. Next I made my truth scroll from a rolling pin and leftover fabric from my dress. I burned the ends and dyed it with tea bags to make it look old. After it was dried I drew hieroglyphs all over it. Then I glued it to my spray painted rolling pin. It really rolled up and down how clever. I then made the ankh with styrofoam and an exactoknife. I then spray painted gold and threaded a Egyptian looking ribbon thru top to wear as a wristlet. My staff is a snake head screwed on a cane then painted gold added red beads for eyes. I wore a black wig and did Egyptian makeup- I'm actually a blonde so the wig helped me a lot.

Anubis costume was much more simpler to make. We got black skin suit cut the head off of it and made the cuffs with gold fabric. His mask is painted with gold glitter and a wet laquer. He got creepy cloth from dollar store and dyed it with tea bags to make it look like worn bandages. We used a cane to make his ankh staff and added the creepy cloth and lights to make it look like his "staff of fire" the real god has. He ordered monster hands and painted the nails yellow. We added fur trim to his ankles to make it look like hooves. His cape is a gold fabric Velcro's on the cape to detach it. We bought the fabrics to make the belt and collar. He also carried a styrofoam ankh that is identical to mine. We wore them to several costume parties and had people bowing to us and moving aside it was very interactive. My husband would scream and growl and raise his staff in the air and scared several party attendees. People loved our interactive props and craftsmanship. Overall it was definitely one of our best looks.