Sully & Mike Wazowski Costumes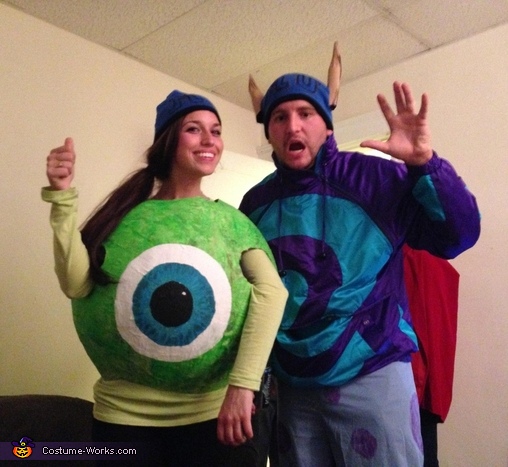 Mike & Sully!
More views:
(click to enlarge)
A word from Jessica, the 'Sully & Mike Wazowski' costume creator:
This year for Halloween, my boyfriend James and I decided to be the popular Monsters Inc. characters Mike & Sully. We made each of our costumes by using all sorts of things around the house.
In order to create my Mike-body, I paper mached a large exercise ball. After multiple layers of newspaper and cut up pieces of brown paper bags, I made sure that the ball was completely dried and solid before deflating the yoga ball. I cut holes in the hollowed out paper mache ball for my head and my arms and painted it to look like Mike.
James found an old jacket that was perfectly color coordinated to Sully's character. He took a pair of old nursing scrubs and colored purple spots on them. We decided to wear blue hats to represent the newest movie, Monsters University. James drew the "MU" symbol on our hats using Sharpies. For his hat, James cut holes out and attached paper towel rolls as Sully's horns. And ta-dah, Mike & Sully!