Stormy Cloud Costume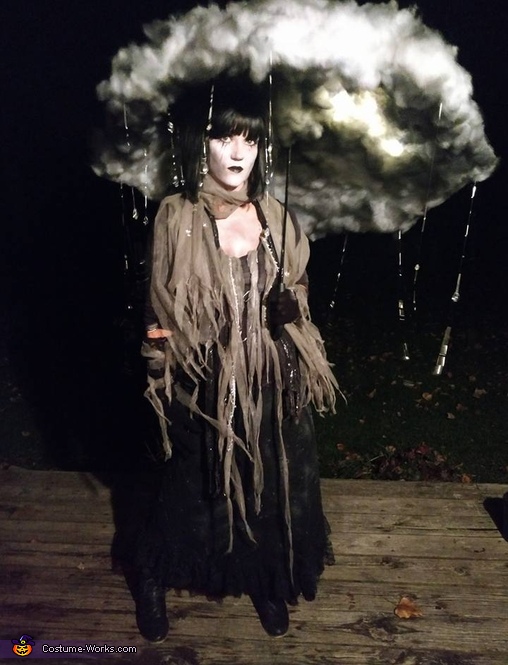 Stormy cloud
More views:
(click to enlarge)
A word from Terry, the 'Stormy Cloud' costume creator:
I was inspired by a couple of pictures on pinterest to make my costume, Stormy Cloud.

I bought a umbrella and hotglued stuffing for pillows on top and underneath it. I sprayed it with black spray paint in spots of the dark cloud. I spent 5 days after work stringing beads to make "rain" and attached them to my umbrella and saved a few for my hair and my outfit. I recycled one of my old costumes skirt again and added my black shirt. I sewed arm sleeves out of lace and hot glued some gray strips for the windy, drippy dark effect. I went to Joann fabrics and bought 2 yards of the sheer gray fabric and used it to make 2 simple scarfs and strips I hot glued on the front and back of my shirt for the windy dark look. I used a black wig and made my make up, sad, goth, dark and gloom to match the theme of my Stormy Cloud.

This by far was one of my favorites I made and was a contest winner at my friends house party.