Star Wars: The Canines Strike Back Costume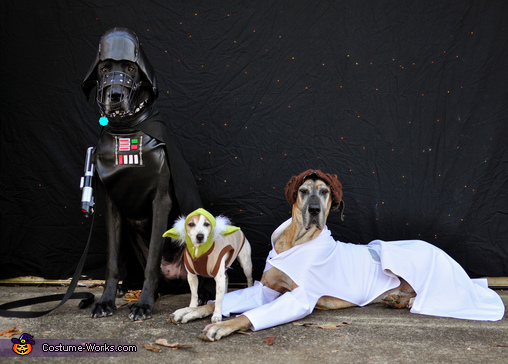 Original version of the photoshopped pic
More views:
(click to enlarge)
A word from Tiffany, the 'Star Wars: The Canines Strike Back' costume creator:
Diego, a recently adopted 4 year old Great Dane, spent three years in a rescue kennel with little socialization. Strangers scared him and he had to wear a muzzle while socializing so we wanted to find a costume that fit in with it. What better than Darth Vader :) The rest just fell into place!

Diego, Darth Vader - his costume was made by me. The cape is a black stretch material sewn with a "pleather" collar that velcros. His chest piece is the same pleather material with several velcro attachments and the buttons on the chest plate are cut from foam and glued on. His helmet was made from a vinegar bottle, bowl from the kitchen, pleather pieces and LOTS of hot glue!! It's held on by elastic straps. His muzzle was painted black to match and his light saber was purchased at Walmart

Nova (Princess Leia) - Nova truly is a princess so this one fits her lol Her dress is made of a white stretch material. I came up with a pattern using large sheets of paper, cut and sewed it to fit, adding velcro attachments where needed. The belt is made from white and silver foam pieces cut into shape and sewn onto the dress. Her hair piece was made from pieces of pleather as the base with brown yarn pulled through, hotglued and curled around into the infamous buns. It has elastic straps to hold it in place.

In one picture you can see our little Jack Russell, Rose, as Yoda. Her costume was purchased from Petco. In this pic, the pups are untouched but the background was photoshopped by a friend.