Star Wars Family Costume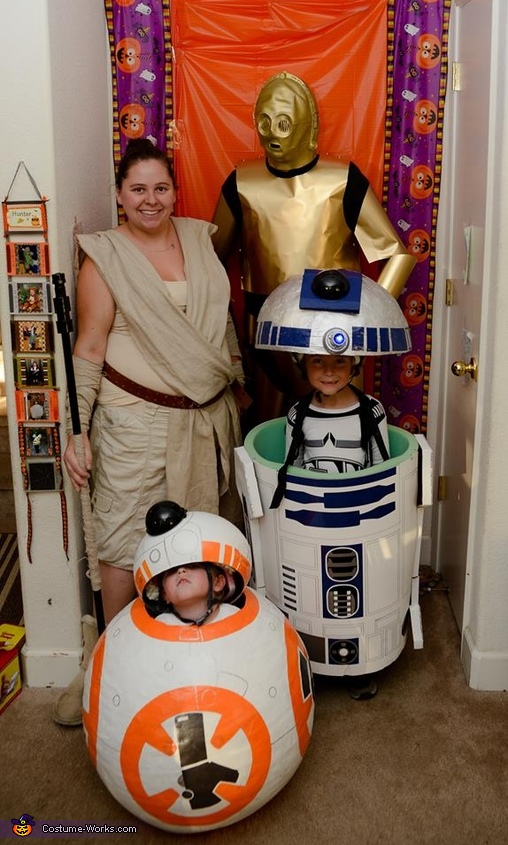 Family shot
More views:
(click to enlarge)
A word from Sherri, the 'Star Wars' costume creator:
I homemade all 4 of our costumes. It took about a month all together to complete. My favorite part was both the boys' costumes they could actually duck down inside them to look just like the droids. When not on people didn't believe they were wearable.

C3PO - Poly styrene was used over top of chicken wire and attached with velcro. Some pieces were hot glued in place as they kept slipping. The only thing that was not completely hand made was the mask tho we did add spray paint to match the rest of his armor.

BB8 - Paper mache ball (3 layers) hand drawn/painted. The helmet was a small cauldron carved and added to with clay then hand drawn/painted. We added two lights in his head with little LED's and detachable lens (velcro)

R2D2 - Foam body covered in spray painted poster board. The helmet is paper mache, we use a bike helmet inside and spray foam to adhear the two layers. Also had two LED lights in the helmet. And a Phone inside to add sound effects (talk like R2)

Rey - Simple beige top/bottom then fabric cut and sewed to the correct length to wrap around. Armbands from the left over fabric. Staff - plastic tube from home depot and plumbing spray painted and glued in place, plus extra fabric to wrap around.