Star Wars Family Costume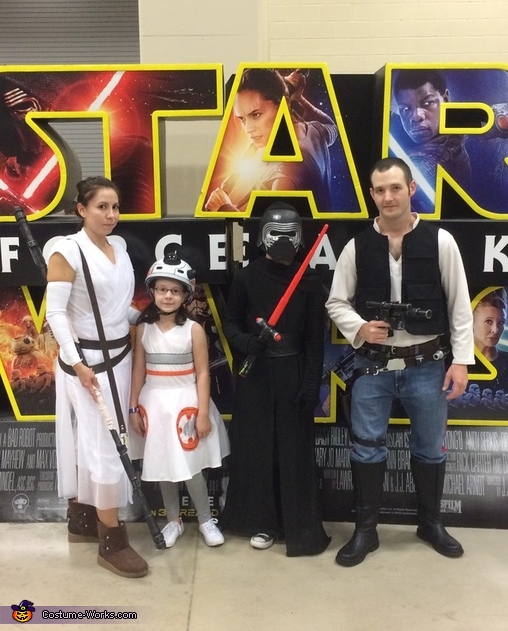 Star Wars Family
More views:
(click to enlarge)
A word from Stephanie, the 'Star Wars Family' costume creator:
This year my family dressed up as characters from the latest Star Wars movie The Force Awakens. My husband was Han Solo, my daughter was BB-8, my son was Kylo Ren, and I was Rey. Almost all pieces featured in the pictures were homemade with the exception of Han Solo's blue pants and knee-high boots, and Kylo Ren's black plants, mask, and lightsaber.

Using a sewing machine, I made the entirety of Rey's costume with mesh, jersey knit, linen, and brown vinyl fabric; Han Solo's vest and shirt with denim and a poly-cotton blend; the BB-8 dress from cotton and felt; and Kylo Ren's robes and hood from various knits.

I used various sewing pattens to help create the general shape of the costumes. Some required the use of ingenuity to figure out, such as the Han Solo vest for which a pattern doesn't exist and I had to play with the pocket sizes and shapes using image references; and the Kylo Ren costume which only has a pattern in the men's sizes.

I also hand-dyed the Han Solo shirt from a bright white to a light khaki color using dark roast coffee. (I tried the same with the Rey costume but couldn't get the colors to match so I ended up bleaching it all out.)

My husband and I tag-teamed all the accessories which included Rey's staff weapon and boots, BB-8's helmet, and Han Solo's accessory belt and blaster.

The staff weapon was made out of lots of PVC pieces from the hardware store, some craft foam for details, and leftover linen and vinyl fabric for the hand grips. It was painted with flexidip and weathered with metallic spraypaints. The DL-44 blaster was a store bought toy gun in white/orange which we painted primer black and weathered with metallics.

The BB-8 headpiece was a black bicycle helmet we painted white, detailed in acrylic paints, and added ornaments and wire/glowstick for the lenses and antennas.

The Han Solo belts were made from store-bought brown leather belts as a starter. I cut/sewed pockets and the holster using brown leather fabric and attached them to the belts using various metal rivets, clips, hand stitches, and glue. I added accessories such as the CO2 canister painted green and some little plastic boxes painted silver.

Rey's boots were cheap light brown 'Ugg' boots I found at Payless. I covered them in chocolate brown wooly felt and added spare brown leather pieces to create the riveted loops for the laces which was a long, thin strip of brown leather.

For the finishing touches, I used Black permanent marker on bright red ribbon to create the stripes on Han Solo's pants, which were hand sewn on since I counted use a sewing machine. My hair was also styled in Rey's usual triple bun look featured in the movie using 4 hairties and 15 bobby pins.