Star Wars Family Costume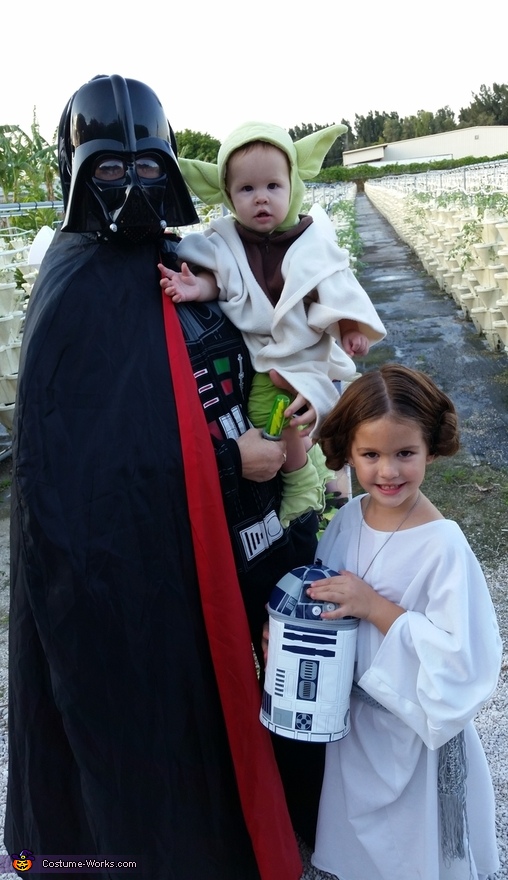 star wars family
More views:
(click to enlarge)
A word from Jennifer, the 'Star Wars Family' costume creator:
Star wars family ..
Princess Leia - my daughter Alayna Violet has the perfect hair for leia, so we went with a star wars theme.. and with the new movie coming out, it worked! And the best part, it was free.. i borrowed the white tunic from the stash of angel costumes at church and the belt was a glittery scarf she had that i turned around, and the medallion is one of my essential oil diffuser necklaces. . And the hair of course was her own that i twisted into buns!
Yoda - played by my 7 month old baby, Vallery Grayce, i got this costume for $10 on Craigslist and sewed up the arms so they were not so long! The head piece was perfect
Darth vader, me! My husband was supposed to be DV, but he had to work late and my queen amidalla costume didnt work out.. so i had the mask and cape from a previous year (we like to buy random costumes when they are on sale in prior years and make them work later for halloween or just dress up!) And the sweatshirt was my husband's from target. Black pants and bulky black shoes finished it off!
It was a big hit ... i even had 'leia' wear 'yoda' on her back for a few minutes and the crowd loved it :) she is a strong princess!!!