Kyle from South Park Costume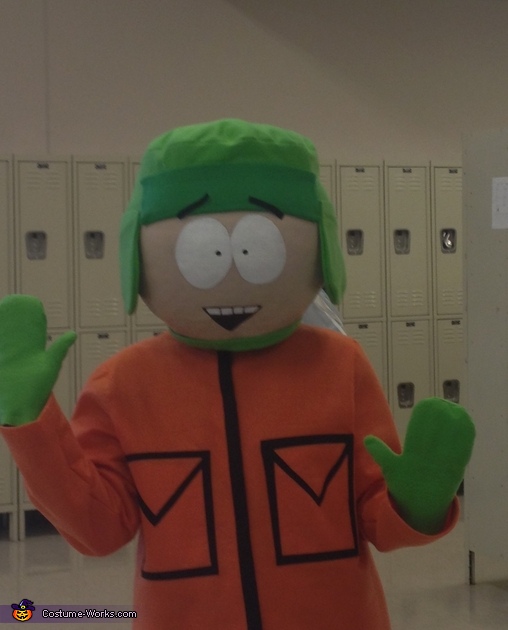 Kyle Broflovski from South Park
More views:
(click to enlarge)
A word from Kim, the 'Kyle from South Park' costume creator:
I made this costume from scratch. Using a beach ball I used papier mache. A simple mixture of flour and water and strips of newspaper. It took a while to build up enough to stabilize the head. And you have to sand ever layer before you move on to the next. After I had the head completed I painted the face with a flesh colored acrylic. After that dried I painted the eyes and mouth. I drilled holes in the pupils so I could see but vision is limited in this costume. While constructing the head I used green and orange felt to make the jacket and hat. Black felt is the eyebrows and outline of the pockets. I used a felt pen and outlined my hand, left about 1/2 inch for room, cut out and sewed for the gloves. The hat and eyebrows where hot glued to the head. I free formed the hat which was the most difficult thing to make. Trial and error was the only way
I could complete the hat. The cord pants and shoes I bought at goodwill. This costume took me a month to complete but was worth it. A crowd favorite.