Scuba Dogs Costume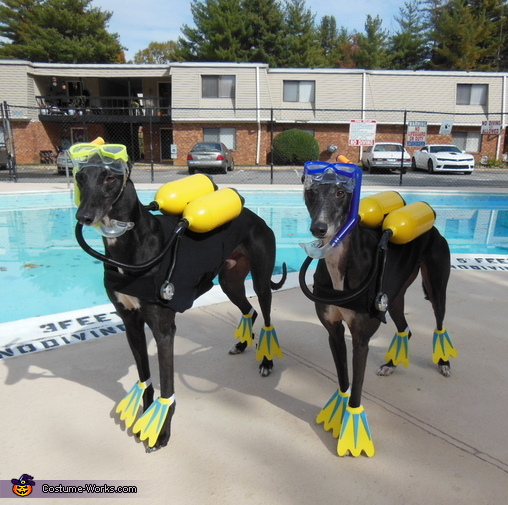 SCUBA - Self Contained Underwater Breathing Animals
More views:
(click to enlarge)
A word from Paul, the 'Scuba Dogs' costume creator:
These are my adopted retired racing greyhounds, Nattie and Whompus. They are reunited brothers that spent 3 years at the race tracks, and we were fortunate enough to bring both of them into our home as our first dogs ever.
Matching costumes were a must. Our dogs truthfully don't like swimming because their lack of body fat and narrow body make them list and not be too buoyant. Building off of that I thought it'd be humorous to dress them as scuba divers to give the perception that they'd be just as fast in the water as they are on land.
The fins are made out of children's craft foam and are held on with Velcro straps and elastic. The snorkel masks were purchased online. I sewed the black body suits from previous winter coat designs I had made for them. The air tanks are 2 liter soda bottles that have been spray painted, duct taped, and attached to the body suit via Velcro. The black tubing connecting the tanks is hollow plastic electrical wire casing meant to keep wires bunched and protected from the elements. And finally the tank pressure gauge is in actuality an analog tire pressure gauge that is glued to the inside of the wire casing and then Velcro-ed to the body suit.
The total cost came out to around $20 per dog.