Scary Halloween Costume Ideas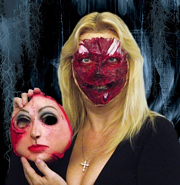 While Halloween brings out the princesses, friendly animals, and noble knights in some of us, others crave a more chilling persona. Costumes can range from an old dirty shirt and ripped shorts to something that looks like it was done by a professional Hollywood artist. Every year, many participants enter our Halloween costume contest and share their creepy costume creations. Each seems somehow more impressive than the last as popularity of the holiday and creative ideas run rampant. Thus, sometimes costumes cross our path that give a new meaning to the phrase 'dress to impress'! Wonder how they make these great costumes a bloodcurdling reality? That's okay, because we do too...
While there are numerous terrifying testaments to talented make-up artists everywhere on Halloween night, nothing strikes up fear and that 'whoa!' feeling quite as much as zipper illusion costumes. These scary costumes are frightening enough to even make monsters turn in their graves! Amazingly bone-chilling in their strangeness, yet becoming more popular by the year, these creative costumes use make-up to simulate 'unzipping' the skin to reveal the blood and body tissues underneath. The end result is an incredibly-eerie effect that leaves fellow Halloween lovers unable to turn their peepers away!
These sinister submissions are bound to have you scared-stiff, but the level of detail and make-up expertise apparent in some of these examples is sure to leave you struck with awe (and dread!). The best part is this technique is a petrifyingly-perfect addition to many types of costumes. Notice the detail in this "zipper-head" zombie. In this case, the zipper make-up makes all the difference when it comes to being as terrifying as possible. Similarly, the addition of zippered eyes takes this costume from simple to scream-worthy! If that's not enough, the zippered mouth on this demon is virtually guaranteed to make anyone want to head for the hills! These examples truly define talent and show how monstrous make-up can kick Halloween up a notch!
Of course, no monster, creature, member of the undead, or human needs a giant zipper through their face to be truly scary and impressive. If you're still on a witch-hunt for that last terrifying tidbit of inspiration, perhaps this spine-tingling selection of creative costumes can help you along. Ingenuity has lead to this "change of face" costume which showcases mind-blowing creativity and masterful make-up application. This "ripped-throat zombie" is sure to send shivers down even the sturdiest of spines (no offense to the skeletons among us, of course!). Seamless blending and realistic textures make the look especially impressive. Those looking for some frightening family fun can take a page from the book of the dead as this zombie family did. Their eerie ensemble exhumes the true spirit of Halloween! Notice how the macabre make-up gives this gruesome group an especially impressive appearance.

Gruesomely Creative Costumes
(Click on the images below for detail on each costume)
No matter what your taste, we'd love to see your wicked creations! Enter our annual Halloween Costume Contest for your chance to win fabulous cash prizes. Who knows – maybe your costume can appear here among the best-of-the-best!