Rosie the Riveter Costume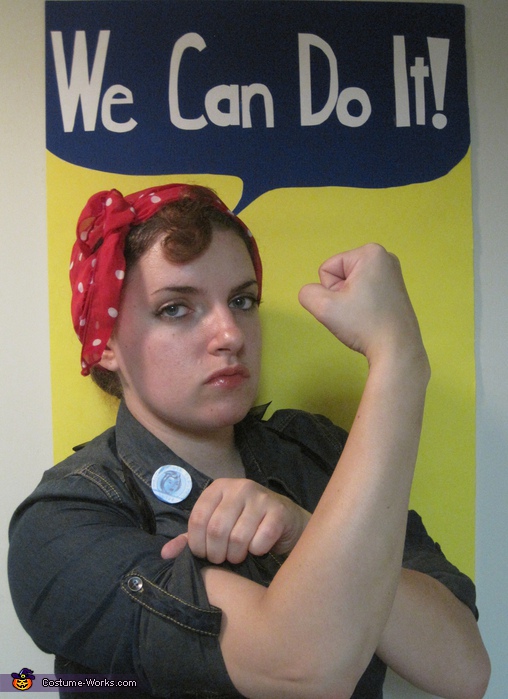 Rosie / Crystal the Riveter
More views:
(click to enlarge)
A word from Crystal, the 'Rosie the Riveter' costume creator:
To create the costume, I wore an old pair of jeans, motorcycle boots and a headband that I had lying around. I bought the button up shirt off a clearance rack. To make the pin on the collar of the shirt, I printed off a blown up picture of the Rosie the Riveter poster and cut out the pin design. I then attached this to an old circular broach I had. The poster board is what took the most work. I got a regular white foam board and glued a yellow poster board to it, trimming off the excess. I then used an exacto knife to make the dark blue word bubble. I eyeballed the font for the letters to try and match the original Rosie the Riveter poster and glued this onto the poster. Lastly, I took some black ribbon to make a backpack-like effect with the poster board. I imitated the Rosie the Riveter pose when figuring out where to place the board. I then poked holes in the poster board and measured the length of the black ribbon accordingly, fed the ribbon through the holes and tied knots in the ribbon on the backside of the board to keep it in place. I also had to loosely tie another piece of ribbon to the two ribbon straps to keep them in place better. When re-creating the hairstyle, I took two pieces of hair towards the back of my head, curled them forward, looped them around and pinned them and sprayed them with lots of hairspray to keep in place. I also tried to mirror Rosie's make-up as much as possible when doing my own make-up. The cost of the costume totaled under $20.
I randomly came up with this idea last year. I wanted to try and come up with something that was more creative and a move away from the typical, sexy costumes that are so prevalent around Halloween. This turned into a fun project where I also learned more about the story behind the symbolism of Rosie and the women that she represents.