Rafiki Costume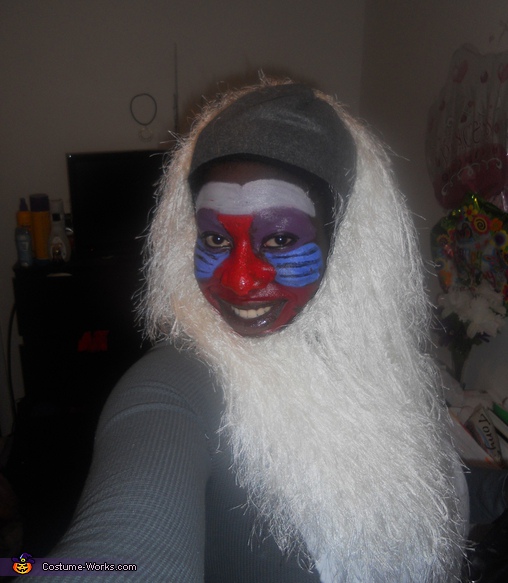 Close up of the face and beard
More views:
(click to enlarge)
A word from Francisca, the 'Rafiki' costume creator:
I decided to be Rafiki because he is my favorite character from the Lion King and wanted to do something creative for my senior year in college. I am student at Binghamton University who is wearing the costume.
For the outfit, I bought grey tights and a matching shirt. For the front part I used white fabric that was slightly furry and hot glue gunned Velcro onto it to stick on to the shirt.
For the tail I used grey fabric and used that to cover glued pipe cleaners together. I bunched 4 together and connected two sets of those. For the blue "butt flap" I used felt and connected it to my pants with Velcro as well. And the stick I purchased at Joanne Fabric and painted my face with basic face pint.
The beard was the hardest part of the costume and where I had to get creative. I bought white 1/2 inch elastic at Walmart and created a circle in the shape of a beard connecting to the back of my head with a line across the lower back. The line across the back was to create a fuller hair effect. Then I cut up pieces of "white yarn fur" also purchased at Joanne around 8 inches long and glued this on with hot glue. Lastly I inserted velcro at the right side of the the beard it was easy to take on and off.
I saw the picture of the little boy who was Rafiki in 2006 on this site and realize his costume is 10x times better than mine but I tried my best to be as realistic as I could. He looks adorable and that costume is straight amazing! :)