The Lion King Family Costume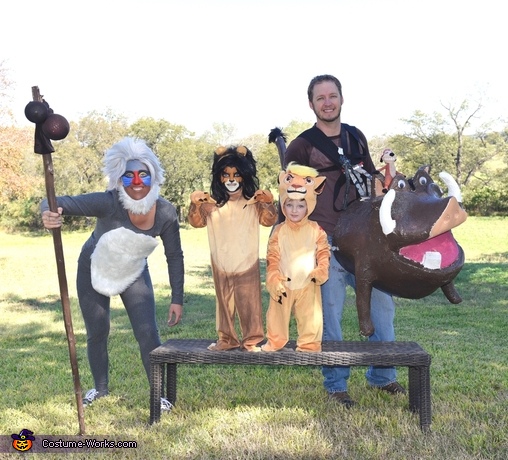 The Lion King Family
More views:
(click to enlarge)
A word from Summer, the 'The Lion King Family' costume creator:
This idea was thought up about 6 months before Halloween while my daughter and I were watching The Lion King. She thought it would be fun to be Scar (thats my girl)!

For scar, we bought a Kion costume off off amazon and just used the body and claws. We used a brown spray dye from Hobby Lobby to make the costume darker, like Scar. I happened to have a black wig that we paired with some Lion ears. The makeup is what really made this costume!

Simba was created by starting with a Kion costume from Amazon and I just hot glued some yellow hair on top to make him Simba.

Rafiki was created by glueing fur (purchased from hobby lobby) onto gray thermal underwear (purchased on amazon). I made a beard out of the same fur by cutting out a strip of fur, then attaching it around my ears with rubber bands. I put on a white wig that I already had and used face paint to create the rafiki face. My stick was one that I found hiking. I painted it brown then put two balls in pantyhose and wrapped it around the top of the stick.

Pumba was the most complicated and took months of working on a little at a time. We started with chicken wire and used spray foam on top of that. We then had to carve it into the correct shape and plaster on top of it. It was then painted and attached to straps. I found a Timon on Ebay and just set him on top.