Quorra Costume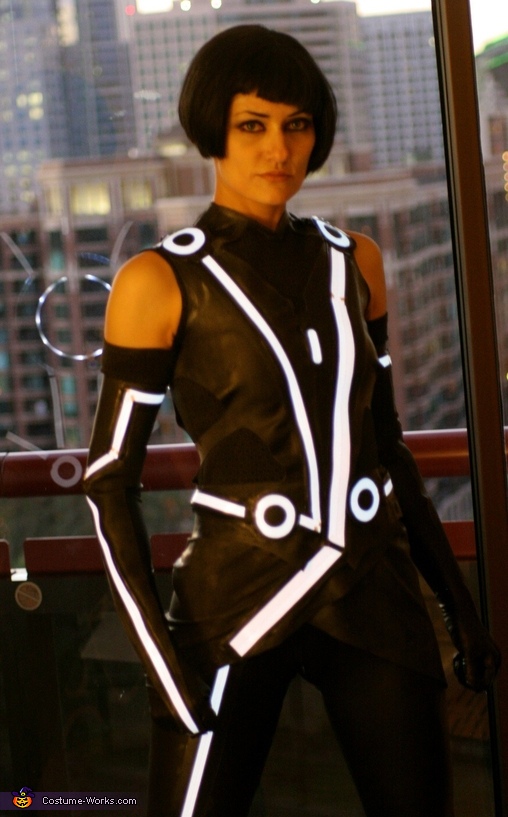 Quorra - Tron Legacy
More views:
(click to enlarge)
A word from Annissė, the 'Quorra - Tron Legacy' costume creator:
Hello, My name is Annissė this is me as Quorra from the 2010 movie Tron Legacy. Inspiration, I love TRON and I love light up costumes ;) My costume was completely made by me and it actually does light up with Lite Tape. No photoshopping effects were made to these photos.
Armor is made with black latex sheeting which I form fitted to my body, not an easy task with flat rubber sheeting. Latex is held together at the seams using rubber cememt, no sewing involved. The underbody suit is made with a custom hexagon screen print design and matte black vinyl spandex. Boot were covered with neoprene designed to the likeness of the actual screen used boots.
Now, the Lite Tape is in another world of itself and a very complicated task to assembled. Each strip on my armor had to be individually soldered to its wiring running all along my body inside the suit. There is a battery pack and inverter in the ID disc holder hub on my back powering the entire suit which when charged fully the battery pack will last a full 6 hours. My ID disc was the official Disney light up toy that was sold. I modified the disc by gutting the entire unit and adding about 50 LEDs to make it brighter and to stay on lite permantely when turned on. It is powered by two individual A23 12V batteries.
All in all, this costume you see here took me half a year to build and work around many technical problems with the lighting before the costume would stay lite up with no flickering shorting out problems. I am very proud of this particular piece :)
your vote is much appreciated. Thank you!
~Annissė