Player piano with 18th century bust Costume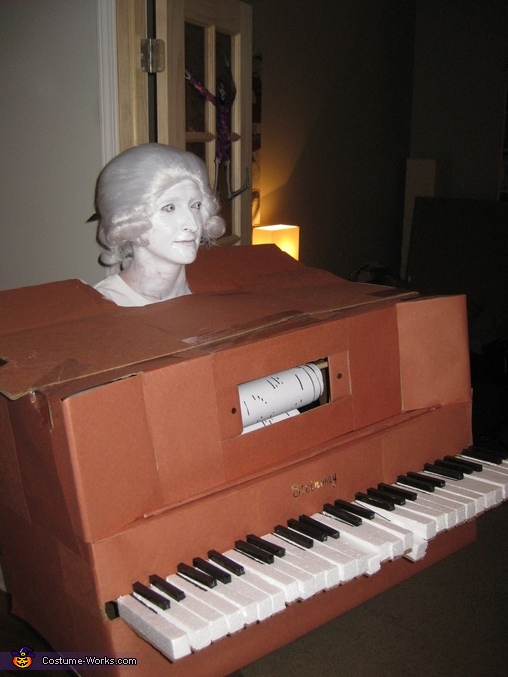 Player piano with 18th century bust: final costume
More views:
(click to enlarge)
A word from Lynn, the 'Piano' costume creator:
I have no idea how this idea came to me. I thought it would be cool to be a piano that people could interact with, but then I couldn't figure out how to make appropriate sounds come out of the keys, so decided it would be easier to just play classical music from my phone with a mini speaker plugged into it that was hidden behind the cardboard, and turn myself into a player piano. With my head sticking out, it only seemed logical that I make myself a statue/ bust.

Materials and methods:
1. Cardboard box that would become the piano body, allowing 1 long flap of the box to stay flapped out, and cut into a bunch of 1-inch wide strips to use a a base on which to glue each styrofoam key.
2. A styrofoam sheet that I cut into the white keys. PS Cutting styrofoam (even with tools designed for cutting and shaping styrofoam) makes a total mess.
3. A bag of wooden rectangular prisms that I cut/ shortened into black keys, wrapped in black duct tape and glued these positionally onto tops of the white keys.
4. Wooden dowel rods that I used to pierce one end of the white keys, and the other end of which I was able to hide behind the cardboard (inside the piano) and pull up on them so the white keys would lever down.
5. Clear string/ thin jewelry wire to anchor the styrofoam keys at the same level, parallel with the ground (used a level), to prevent the keys from elevating above the horizontal.
6. Random coins (a dime or penny)- duct taped to the hidden ends of the dowel rods as counterweights, which allowed the white keys to return to their normal horizontal position whether I interacted with the dowel rods behind the box, or a person would try to depress the white keys. The duct taped coins on the ends of the dowel rods also allowed me to be less precise while trying to secretly move the keys by giving me a wider surface area for my fingers to hit.
7. Bungee cords to anchor the sides of the box and up around the back of my neck (kind of like a food vendor at a ball game)
8. Construction paper to cover the surfaces of the piano brown
9. A long rod to hold up the roller of "sheet music" and an exacto knife to cut random squares, lines and rectangles into paper to make it resemble a sheet music pattern that a player piano "reads".
10. Fancy letter stickers to write a piano brand name across the front.
11. A white colonial wig, white face paint, and white contact lenses.

Fun costume, but obviously cumbersome.