Phalaenopsis Orchid Costume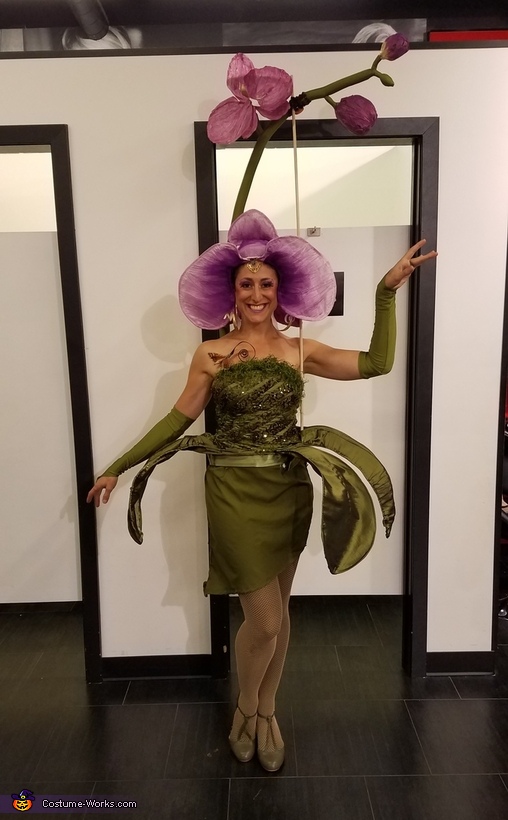 Orchid costume - Magical realism meets 1940's Busby Berkely inspiration
More views:
(click to enlarge)
A word from Denise, the 'Phalaenopsis Orchid' costume creator:
This Phaleonopsis Orchid costume is entirely original and and hand fabricated from fabric, wire, foam clay, and other things purchased at a hardware store. I started making it in the summer and worked on it right up until I wore it on Halloween night. I have a few savvy friends that gave me incredible art advice along the way, and even join me for a craft party as made our costumes!

I often start thinking about my next costume as soon as one Halloween is over, and my friends and family love to tease me for it. I sketch and re-sketch as ideas come to me and I always keep an out out for materials at thrift stores and other places as the months go by. In the Spring, I had purchased a boring green dress at a rummage sale, for $5. I employed a technique I have developed of sculpting wire and stretching and sewing fabric around it, often in layers for depth and texture. The leaves on the dress and the orchid bloom headpiece are fabricated in this way. A sewing machine and a glue gun are my go toís. No Halloween passes without burns on my fingertips.

After I fashioned the skirt, I made a belt that supports the wire frame of leaves to rest on my hips and keeps them perky. (I ironed green ribbon onto black webbing with fusible web and added belt hardware.) Real Spanish moss peeks out of the bodice. I bought green shoes, tights, & gloves to match. (Incidentally, these were the only items, along with plain gold hoop earrings and a cheap headband that I did not make from scratch). I wore nude fishnets over olive green tights for texture and color.

I designed the Orchid flower headpiece in the same way as the wired skirt so that the petals fit around my face and hid most of my hair (from front and back angles) for a true transformation. I used white fabric dyed with acrylic paint in a color I custom mixed, using a spray bottle of water to get the blended affect. I used the headband to hold it all in place. I covered my pony tail in a scrap of satin from the dress to look like a stem. I made the jewelry to mimic actual parts of an orchid; I bought huge hoop earrings and sculpted lightweight foam clay onto them, painted them gold and white, and covered them in clear coat. I used an old brass earring I found for the headpiece, wiring a druzy stone in the center to complete the look. (A la Childlike Empress from Never Ending Story!) I was going for a mix of fantastical realism and Busby Berkeley inspired, 1940ís classic stage costume vibes, and I think I hit it just right.

For the stalk with blooms I used foam pipe insulation from the hardware store, again fabricated around stainless steel wire, wrapped in masking tape, and sewed fabric (from a second pair of gloves) to cover it. I made the orchid buds out of fabric and white glue. I sculpted these over various sized balloons, let them dry, stuffed them with packing peanuts I had around the house, and then assembled them around a paper straw with a glue gun. (This way I could slide each bud onto its wire stem and glue it securely.) I painted the whole thing with eyeshadow and acrylic paint and added a hair clip and a wooden dowel to mimic the tiny ones that real orchid enthusiasts use when a stem is droopy with blooms and needs to be propped up. I also added a tiny pocket on the hip of the dress (out of a left over glove finger) to prop up the bottom of the stake in so that I did not have to hold it up all night.


Nerd alert: As a nod to the magic of nature I like to include accurate details that I learn as I research the subject of my costume. This brought out the curly hoop earrings (that help to pollinate an orchid), and the moth. Basically, Darwin and other scientists in the late 1800ís had hypothesized the existence of a strange moth that had a foot long proboscis (tongue) so it could pollinate orchids with blossom necks that were a foot deep, and some time after they said this, someone finally found the actual moth in Madagascar (Morganís Sphinx moth). It was too cool of a story to leave out, so I made a glow in the dark moth out of a craft store butterfly by chopping, painting, reshaping, and adding a 18Ē (wire, electrical tape) proboscis (tongue). To be clear, this moth was not in relation to the species of orchid that I wore, but it was a detail I added since it was so dang cool. I keep my costumes scientifically legit!

I LOVE rocking ridiculously elaborate homemade costumes every year and attend an annual Halloween street party with friends to compete in a massive costume contest. I won second place (and $500!) against over 65 people and found myself on the front page of the local newspaper. Much of the night was spent posing for photos with passing strangers, which I enjoy as my once annual day of fame. I also live in a small community, and in the days since Halloween, people continue to recognize me when Iím out and about.

I look forward to Halloween as my yearly art project with no budget limitations, yet I relish in the challenge to reuse materials instead of buy things. I keep a sizable art supply stash for my year-long art, where I keep several rolls of varying gauges of steel wire, and happened to have a huge spool of perfectly matching green ribbon, nude fishnets, and hella thread colors. That being said, I still spent around $185, (at hardware, fabric, and online stores). The lasting glory and the prize money helping me better than break even is awesome, but the fun months of creating and then bobbing around a crowd of grown adults in zany outfits makes it all worth it!