Nicki Minaj and Lil Wayne Costumes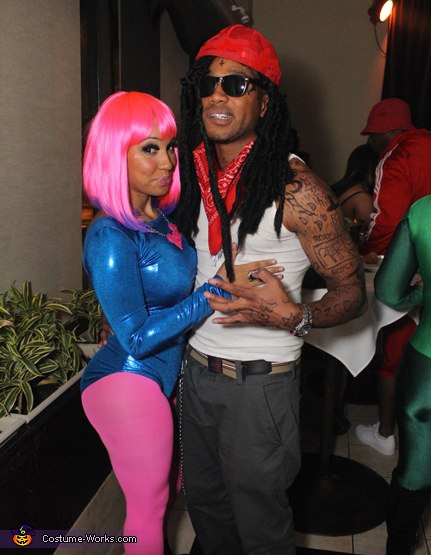 Lil Wayne and Nicki Minaj
More views:
(click to enlarge)
A word from Martha, the 'Nicki Minaj and Lil Wayne' costume creator:
I came up with Nicki Minaj and Lil wayne because I love Nicki Minaj as an artist and I love the color pink!! For my boyfriend it made sense to make him the one person who she's always around which is Lil' Wayne..
Both homemade costumes. I bought a blue metallic leotard from a dance accessories store and the tights online from "we love colors". I bought a barbie necklace on amazon and got a pink wig at Ricky's. I bought blue spray paint and painted the ends to give it the two toned look.
For my boyfriend (Lil' Wayne) he wore a white tank top we bought two bandanas. I bought the Dreads wig on amazon but it didn't come too well dreaded, so It took me an extra 2.5 hours to dread the hair with gel and hair grease. I originally bought a tattoo marker but it didn't work too well so instead we took a sharpie and I copied about 45% of lil' wayne's real tattoos and made up the rest. This took about 45minutes. We also bought a red fitted cap and Levis skinny jeans to complete the look. He had platinum grillz, which we got on amazon for about 8$. The faux sunglasses were $.
We were a big hit and everyone loved our costume!! ENJOY