Mrs. Rosebud and Slimy Costume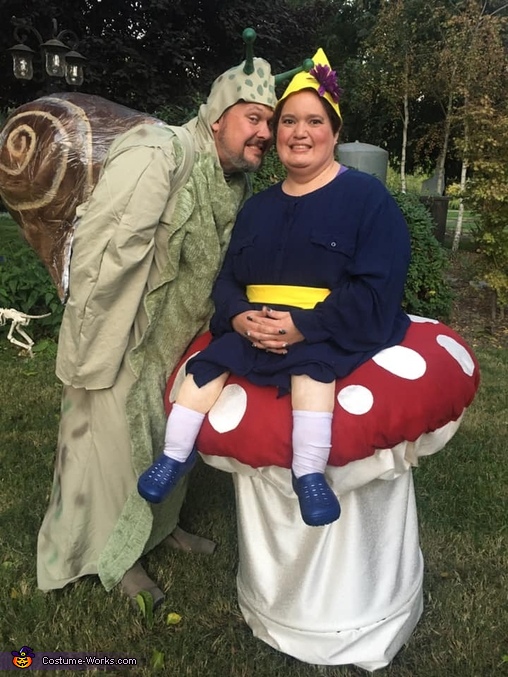 Once you go Gnome you never go back
More views:
(click to enlarge)
A word from Chris, the 'Mrs. Rosebud and Slimy' costume creator:
Mrs. Rosebud and her pet snail, Slimy, were inspired by my wife's love for the whimsical garden adornments. All the materials for the costume were found at local thrift shops. Both costumes went on like big dresses with the snail shell being a backpack. I probably spent about $20 on each costume, maybe less.

Mrs. Rosebud
The gnome's mushroom was constructed using an irrigation drip line and carboard to make the shape and hot glued to a T-shirt. I used stuffing from a giant teddy bear I got for a couple of bucks to fill the mushroom top. An oversized shirt, skin-colored stockings and $1 sandals finished up the pretty simple costume.

Slimy
I used a sheet and a blanket to create the body of the snail. The shell took a little longer I tried using an old pool hose and duct tape, but found it was too heavy and wasn't giving me the right shape I wanted. I was trying to figure out how to make it lighter when I came across the exercise ball. With a backpack, some duct tape and cardboard I was able to create a lightweight shape. I used tissue paper and modge podge to get the shell to look the way I wanted and with a little spray paint and hand painting, it all came together.