Miley Cyrus Twerking Teddy Bear Costume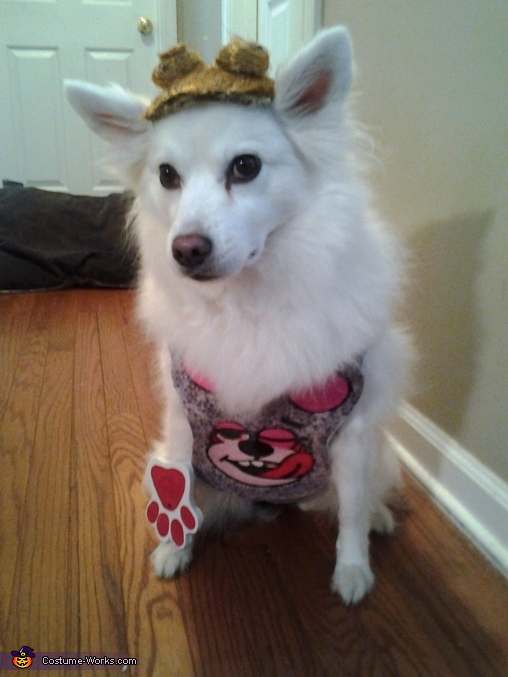 Who wore it better? Miley or Chilali?
More views:
(click to enlarge)
A word from Angel, the 'Miley Cyrus Twerking Teddy Bear' costume creator:
Chilali is sporting the infamous Miley Cyrus twerking teddy bear costume, complete with foam paw. As you can see by one of the photos, she even knows how to do the twerk dance.

Every year I dress Chilali up as a celebrity--usually someone who has been in the headlines, so Miley was an easy choice. I like the idea of taking something that has made people angry or upset and turning it into something positive and humorous. When people see Chilali is this costume they laugh out loud.

The wig was created by attaching synthetic hair (purchased from the Dollar Store) to a shoulder pad and then attaching an elastic strap.

The body suit is a "one-sy" purchased from Goodwill. I used fusing to make a firm surface to attach an iron on transfer of the teddy bear image. I downloaded the image from the Internet, did some tweaking in Photoshop, and printed out the transfer. For the flesh-colored bikini underneath the body suit, I purchased a small bra from Goodwill and cut up an old pair of pantyhose.

I cut up a Dr. Scholls' insert in the shape of a paw and painted red paw marks on it to create the foam paw, which is attached with an elastic strap. I don't know the exact cost to make this costume, as I had some of the materials on hand, but it was probably close to $15.