Mermaid on the Rocks Costume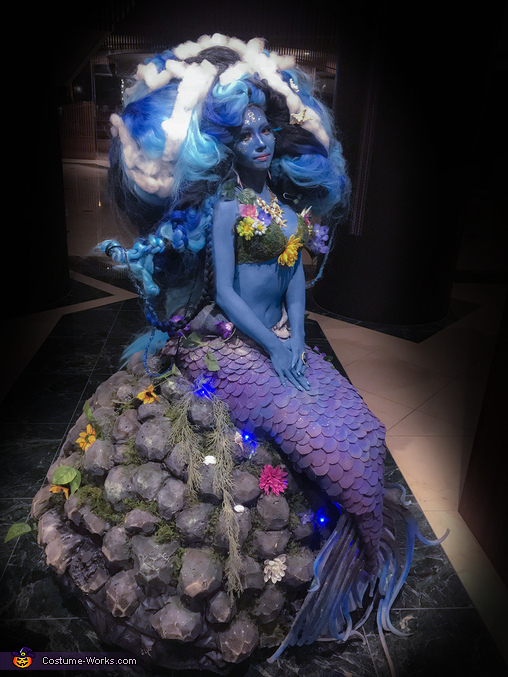 Mermaid on the Rocks Costume
More views:
(click to enlarge)
A word from Francesca, the 'Mermaid on the Rocks' costume creator:
Hii! My name is Francesca and this year I conceptualized and designed a Mermaid sitting on a rock!

I wanted to stay away from the image of feet being inside the mermaid tail, so after being inspired by other costumes that utilized a separated rolling platform for the mergirls to sit on, I thought, how neat would it be to make it look like the skirt was a platform she`s sitting on!

If I wanted the entire contraption to be a dress, I needed to keep it lightweight, and it had to be securely connected to the tail in order to walk around, so I decided to use expanding spray foam for the rocks. I highly suggest it to other people if you want to make light weight props! It just takes time and creates a huge mess when you`re carving out the shapes. It`s very popular among cosplayers!

After foam fabricating the tail, we created blobs of foam all over the hoop skirt, and carved out stone-like shapes one by one after the foam hardened.
After the sticky gooey messy part was out of the way, we cut out and pasted scales one by one all over the mermaid tail.
After that, I airbrushed the rocks and scales one by one to give them a more organic feeling, and jazzed them up with artificial moss and flowers etc.

As for the wig, we didn`t have proper wig creating material available, so if you`re limited and on a budget, wire and lace curtains will work just fine! We made the shape out of the wire first, then covered it with the lace curtain and styled the hair on top of the base. Then you will be able to have a lightweight wig and have it basically as big and outrageous as you want!

As for the bikini top, I felt it should be a little different from the traditional seashell tops, so I went for a more polynesian/Moana inspired look with bright green moss and brightly colored flowers. I figured, a mergirl would want to accessorize with hard to get accessories just like humans right? lol.

It took forever to evenly apply the makeup but it was totally worth it!

A lot of love went into this one, so I really hope you guys like it! Thankss!!