Medusa Queen Costume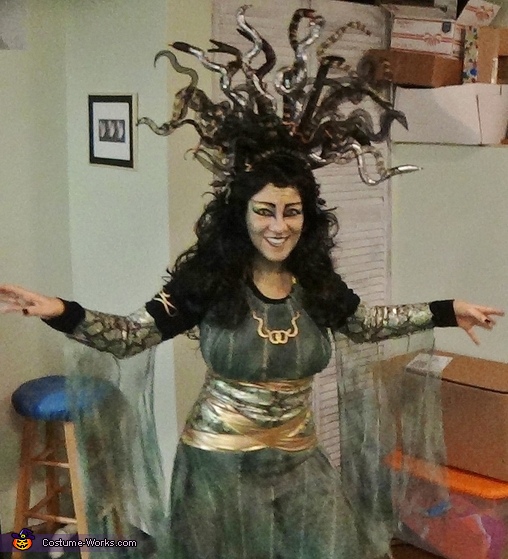 My full Medusa costume!
More views:
(click to enlarge)
A word from Linda, the 'Medusa Queen' costume creator:
I had always wanted to be Medusa one of my favorite characters from Mythology. I needed to really think the head piece through before I even attempted it. Wanting the head piece to be fairly light in weight, I decided to use cyberlox crinoline and wire as well as some store bought fabric snakes. I carved some of the mouths using Styrofoam and used toothpicks for the fangs. Some acrylic paint as well to add to the effect.
I inserted wire into each cyberlox and then glued each one to a large fabric headband. The wires helped hold the snakes up and allowed for bending and shaping. For the victims head I turned to "stone", I spray painted a foam male head with gray textured paint. My costume was tweeked with gold accents and glitter and some added snake jewelry. I really enjoyed making this whole costume come to life from scratch, and got huge raves from many trick or treaters!!