Mad Hatter and Queen of Hearts Costume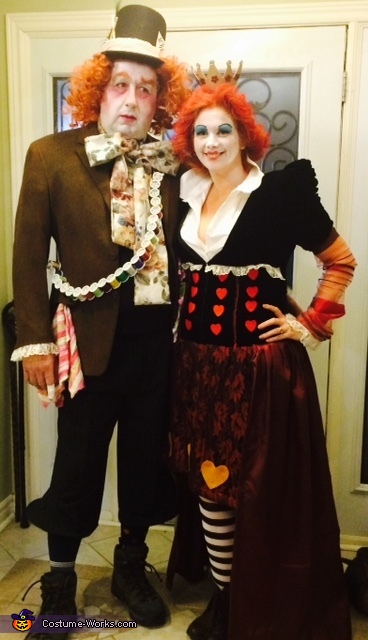 full costumes...this was from the first night so hair is not as good and night 2.
More views:
(click to enlarge)
A word from Shelley, the 'Mad Hatter and Queen of Hearts' costume creator:
My husband (Kerry) is the mad hatter and I am the queen of hearts...I choose these characters because I love the movie Alice in Wonderland. They took me 4 days to complete. I bought everything used (clothing) from Value Village. Queen of Hearts is 2 different dresses taken apart and a shower curtain. The black part is from the top of a dressed turned backwards. The original dress had a low V back and I wanted cleavage so I turned it backwards. I had to remove some embellishments and bows that were originally on the back. the skirt front is from another dress and the back (train) is a shower curtain. The sleeves on my dress were the lining from the shower curtain. It took a lot of teasing, hairspray and red paint to get MY hair that color (yes it is my own hair). Mad Hatter aka Kerry...costume was a little easier, we bought a suit jacket that we misted with spray paint to give it an old effect. His pants were just stripped dress pants that we cut off and belled them out by cutting a slit in the side and adding more material (from what we cut off)...we than put wire through the hem so they would stay belled out. His neck tie was just material bought from Value Village. We created the tread crest by using wire to tie together spools bought from the dollar store. His hair was from a princess wig that we cut up and staples to the hat. My husband had to shave all his facial hair off for our costume...something he hasn't done in over 20 years. He was a great sport and I believe in the end, he had just as much fun as I did. Total cost was around $200...but a large part of that was on the makeup and hair color...the blue for my eyes was $10 alone and the lipstick that I bought for the purple on his face was also $10. We went to parties on both Friday and Saturday and it took 2 cans of hair color each night to get my hair that color.