Queen of Hearts and Mad Hatter Costume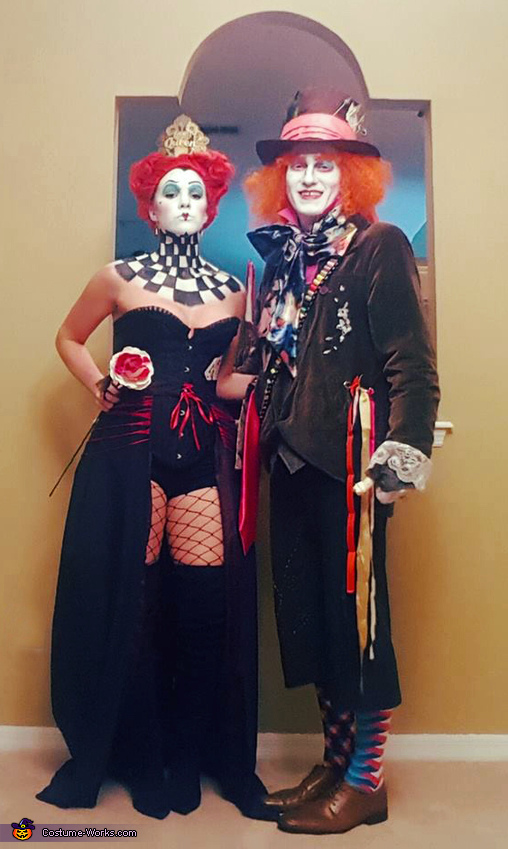 Queen of Hearts and Mad Hatter Costume
More views:
(click to enlarge)
A word from Lindsey, the 'Queen of Hearts and Mad Hatter' costume creator:
Who's Wearing It: Lindsey and Chase

Idea: We are big fans of Alice in Wonderland and wanted to pay tribute to the wonderful actors in Tim Burton's film. I took a creative spin on the Queen of Hearts (Iracebeth) and my partner in crime tried to be as authentic as possible to the Mad Hatter.

Creation: Queen of Hearts: I created her crown from a variety of cardboard laser cut outs which I glued together and painted gold. I painted the back black for a very slight shadow/outline effect. The skirt was created from an eggplant satin, a black twill, black lace, a structural net, red string and small accessories, such as hook and eyes and red ribbon. I started by draping the formation of the inner satin fabric with special care take to create and build up the structural netting. This is what I used to create a bustle like effect reminiscent of the era. I created a small corset like closure in the front, lace along the waistband and inner hem, and draped the red string from the front around the back. As a special touch, I added playing cards (King, Queen, Jack of Hearts) to the waistband and completed the look with a white rose which was beginning to be hand painted by Alice. To complete the garment, I wore a steel bone corset, fish net stockings, black boyshorts, thigh high boots, black fingerless gloves, two large gemstone rings, and heart and key silver earrings. To create the makeup, I used a white and black body paint as well as eyeshadows, eyeliners, etc. that I had as party of my makeup collection. Creating the checkerboard pattern was a particular challenge.
Mad Hatter: We started with a women's jacket and pants from Goodwill. I created a variety of three different fabric sections to look similar to a neck ties and pocket squares hanging from his right pocket and a variety of ribbons tied to an antique safety pin on the left side. We added the silver flower embroidery patch the left bust and added lace to the hems of the sleeves. We changed the collar design slightly to create less of a notched collar design, and more of a shawl collar. I then created plaid fingerless gloves with a thumb hole. The edges were left raw so that they were allowed to fray. Under the jacket we altered the pink button down shirt by creating a partial plaid vest. I created the bowtie from a colorful floral and black print satin and tied it in such a way that the bow remained a large focal point of the costume. We made the bobbin sash/belt from small spools of thread, chain, and leather chord. The pants were altered at an angle about 7 inches on the inner seam and 6 inches on the outer seam. I then embroidered the right pant leg with 4 different colored threads. To create the hat, we did find a hat that would be similar in brim width and height. We added a salmon satin by tying it around the base of the hat, four authentic mad hatter hat pins, a striped ribbon and colorful fabric swatch, and a peacock feather. I drew out 10/6 and burned the edges and we stuck that in the satin as well. To evolve the Mad Hatter's makeup, I used white body paint, and bright eyeshadows. I created the contouring on the cheeks and nose with eyeshadows as well, and the illusion of white eyelashes was created by drawing small lines with the white body paint. The wig was used to also create his wonderful eyebrows. His hands were painted white with the white body paint, fingernails yellow, and he added a ring, a thimble that we painted blue, and he taped up his thumb up with medical tape. The wig was altered by adding hair products to create that wonderful volume.