Legolas Costume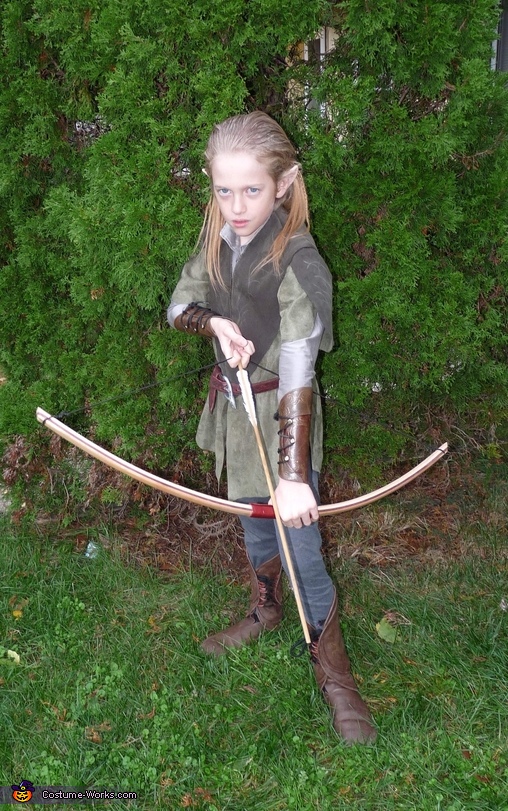 Legolas with his bow
More views:
(click to enlarge)
A word from Julia, the 'Legolas' costume creator:
This is my 11 year old son who saw Lord of the Rings for the first time and wanted to be Legolas because he was so amazing with his bow. I made most of this costume from scratch.

I have a step by step video tutorial on my website describing how to make craft foam look like leather, but basically it requires ironing it to seal the surface, gluing fabric to the back of it with heat n' bond fabric glue to strengthen it, embossing with a sculpture tool, coloring it with shoe polish, fabric paint and then sealing all of it with varnish.

The belt buckle is made from a big paper clip inside of sculpty clay that I baked and then sprayed with silver paint.

The boot base is a canvas sneaker. I sewed the craft foam to it to hold it on. The strings are bought shoe laces strung into leather lace 'eyes' that I sewed on to the craft foam.

For the hooks on the wrist bracers I used gold paper brads.

For the sliver shirt clasps I used decorations I found in a craft store in the scrap book section for the 'eyes' to regular 'hooks'.

To make his hair longer I used extensions.

To make suede cloth fabric of the jerkin hang heavier, like real suede, I used heat n' bond around the edges and glued two pieces together, sewing the top parts together. This also seals the hem so that it doesn't fray without the need for a sewn hem!

We bought the elf ears, the bow and we bought the wooden knives that we then painted to look like those from the movie.

All of that with a big dose of cute and attitude and he looks ready to go on an adventure in Middle Earth!