KISS Gene Simmons Costume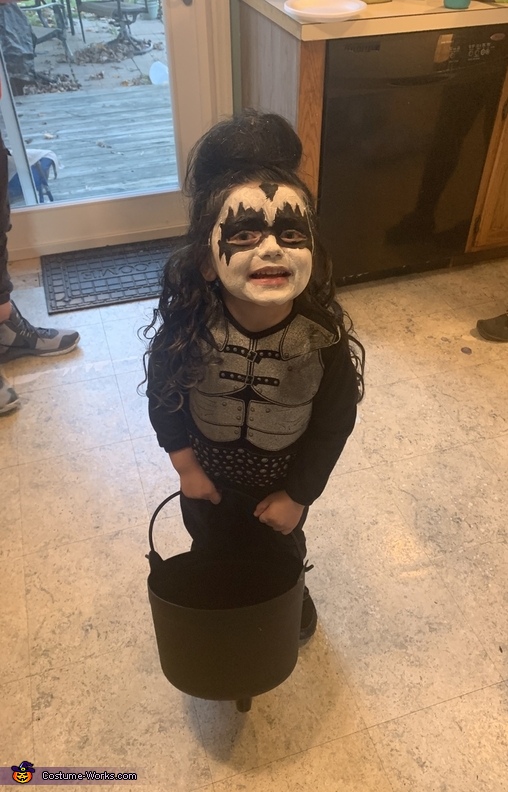 KISS Gene Simmons Costume
More views:
(click to enlarge)
A word from Erin, the 'KISS Gene Simmons' costume creator:
I have my three year old son wearing the costume. The idea came from his hair to be honest. He has hair down to his butt!!!
So I found the body suit for him which was not easy to find. Then I had to take a very small curling iron to his hair to make it curly bevsuse gene simmons has curly hair. As I'm starting to do this my son is not happy telling me it hurts it hurts which I knew it didn't but he just didn't want that part done. So each curl I had to do I curled it in tiny strands and then I used hairspray to hold them. I then took half his hair and put it in a messy hair bun ontop. Once I got done with the curls I then had to spray his hair black. Well that was a task because I only bought one can of black spray and it definitely wasn't evough!!! Oh no!!! So I quick ran down to target in hopes they would have it and "yes" they had it. His hair used 3 spray cans!! I also purchased a glitter can for his hair and outfit bevsuse those rock bands would add glitter to be glamorous back then. Which it came out awesome!!!
On to the next which was painting his face. So instead of painting his face completely white we took a different approach. We first outlined the designs around his eyes and then we filled all the white in surrounding his eyes and face. We then filled in the black designs last and the retraced back over all of the white to make it more prominent. That method worked out so much better than first doing the white paint. Well finally we were complete with an awesome outcome. Ready to hit the dyreets'n he was the best costume of the night everyone was saying. Such a blast!!!