Kermit the Frog Baby Costume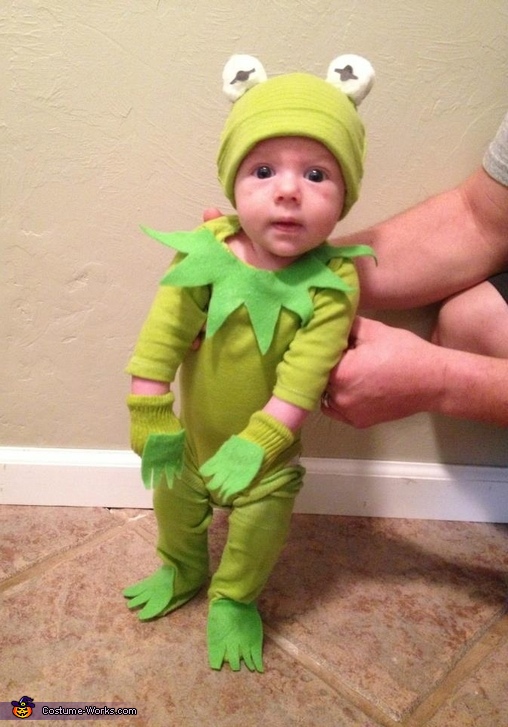 Kermit the Frog
More views:
(click to enlarge)
A word from Carrie, the 'Kermit the Frog' costume creator:
This was our first Halloween with a baby brother so I tried to think of a "duo" costume where my 4 year old daughter could be something "bigger" and our 2 month old son could be something "smaller". Thus, the idea for a Miss Piggy / kermit costume duo was born! I scoured the Internet for "purchasable" costumes but the smallest Kermit costume was 12 months & i knew it would swallow our newborn & require lots of sewing. it was also pretty expensive so I decided to make it myself. I also searched for onesies & pants that were already solid green but couldn't find anything! So I realized I had all of the supplies in white I just needed to dye them. This was my first experience with clothing dye & I have to say it was super easy & I was very pleased with the results!

For the Kermit costume I spent less than $5. Here's what it consisted of:
Long sleeve onesie, baby beanie hat, old socks of mine & a pair of baby socks all dyed with neon green fabric dye ($2.99)
A sheet of green felt (.25)
2 large crafters cotton balls ($1)
Other supplies were glue gun, scissors & black sharpie

I simply died all the pieces so they would be the right color then cut out the neck detail & hands & feet out of the felt. I used my old dress socks as the legs only because I couldn't find white pants his size to dye. I cut his baby socks to use as fingerless gloves. I got glued the hands & feet to the socks & the neck piece to the neck of the onesie. Then I took the large cotton balls & hot glued cardboard in the correct shape to make Kermit's eyes (actually I drew the shape of Kermit's eyes onto the cardboard packaging that the cotton balls came in with a sharpie & cut them out). Then hot glued the eyes to the beanie & voila!

This was a Suuuuper easy, suuuuper comfortable & suuuuper cute costume for a newborn! He was warm & comfy & the impact was huge! We got tons of compliments. Plus our little guy seemed to really love it! He would smile every time we put it on!