Jim Henson & the Muppets Costume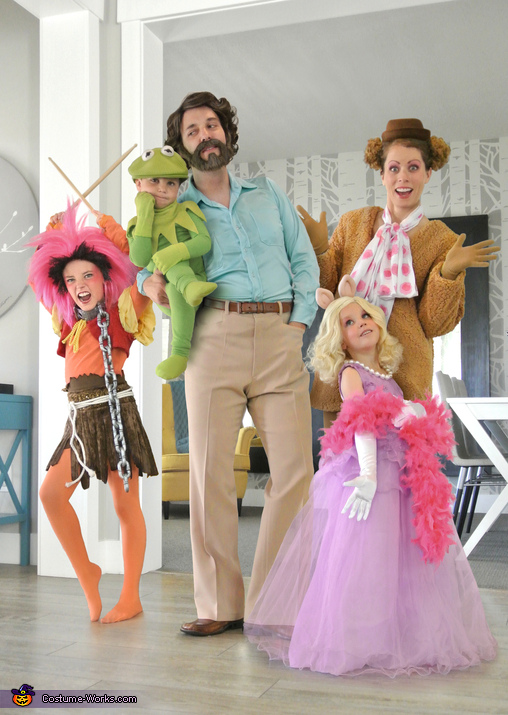 Jim Henson & the Muppets Family Halloween Group Costume. Kermit, Miss Piggy, Animal, Fozzy Bear, and Jim Henson.
More views:
(click to enlarge)
A word from Hillary, the 'Jim Henson & the Muppets' costume creator:
We're the Carey family, and group Halloween costumes have become a tradition for us over the past 4 years. This year we decided to tackle The Muppets. It was tricky to find creative ways to evoke the characters without wearing mascot type body suits and masks. We knew we wanted our faces and personalities to shine through, so we would have to take a more stylized approach.

As always, most of our costumes are made up of pieces purchased at thrift stores. However we usually have to purchase the wigs and a few hard to find items online.

Jim Henson: These great 70's clothes were easily found at a thrift store. The wig and beard we're purchased online.

Kermit: We just needed to find the right shades of green. Green long johns we're a great base, along with green gloves and socks. The neck piece was made by cutting a fleece jacket and turning it backwards. The zipper of the jacket made it easy to get on and off. The hat was the only thing that required some searching, but thank goodness for Amazon. We created eyeballs out of clay and hot glued them to the hat.

Miss Piggy: We scoured thrift stores for the fanciest dress we could find and paired it with silk gloves, a feather boa, and jewelry. We created ears out of clay and hot glued them to a headband. We opted to not include a pig nose to keep things more suggestive and less literal.

Animal: We found a pink punk wig online and turned Animal into a punk rock diva. We glued remnants of a fake beard to the wig to suggest Animals thick bushy eyebrows. The collar was made from a cut down belt we painted silver and some fake chain we found at a Halloween store. Everything else was found at thrift stores and ripped and stitched together.

Fozzy Bear: We thought the fuzzy jacket would be the most difficult piece to find, but to our surprise these jackets are in style and Amazon offered several options in the color we needed. Rather then doing literal bear ears we opted for 2 curly hair pieces, again going with our non literal theme. We trimmed down and overlapped a child's bowler hat to make it even smaller. We potato stamped the pink flowers on a white scarf to complete the look.