Hopper & Joyce Costume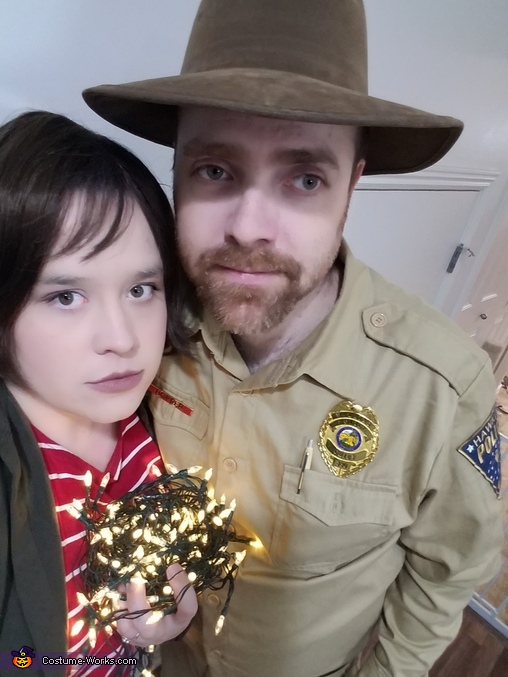 Hopper & Joyce Costume
More views:
(click to enlarge)
A word from Skyler, the 'Hopper & Joyce' costume creator:
Joyce and Hopper

Here's the story of our family's Stranger Things Halloween:

Stranger Things is one of our family's favorite shows.  When a child behavioral therapist suggested cutting my two-year old daughter's hair short to curb a hair pulling habit, my wife was devastated.  Until, that is, we realized it made her look like Eleven.  All at once we knew what we had to do for Halloween this year.  We decided that our daughter would be Eleven, I would be Hopper, and my wife would be Joyce.

For this entry, we're shipping Hopper and Joyce.  #jopper

90% of the Joyce costume came from the thrift store, with the wig & axe being the only officially licensed costume accessories, and a set of battery-operated christmas lights from Amazon.  My wife trimmed the wig slightly, mostly the bangs, and applied lipstick in a similar shade to what's on the show.

The Jim Hopper costume came from Spirit Halloween, with a couple modifications.  First, I replaced the hat that came bundled with the costume with a costume Fedora (also Spirit Halloween), because the hat that came bundled with it was horribly inaccurate.  Then, I picked a few stitches in the left breast pocket flap to make a "pen pocket" (so that the pen can be slid into the pocket with the flap closed).  Then I bought some brown shoes at a thrift store, a blue braided scunci at a local grocery store (a small, lesser known costume detail) and a pen in the same style used on the show.

Oh, and I grew my facial hair for the first time in my life for this costume.