Gone, but not forgotten! Costume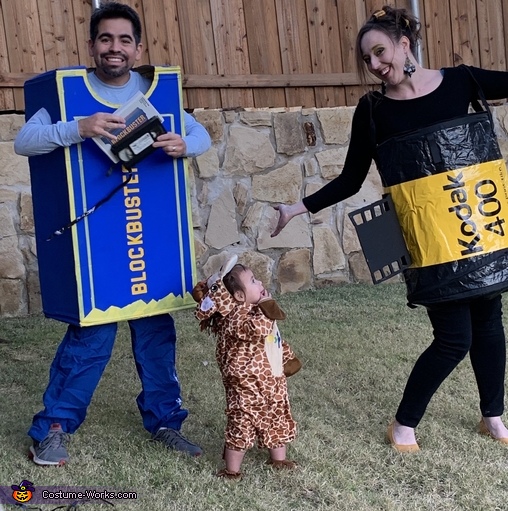 Family in costumes
More views:
(click to enlarge)
A word from Crystal, the 'Gone, but not forgotten!' costume creator:
We are the Anderson family and our theme for our family's Halloween costumes this year was: Gone, but not forgotten.

My husband and I were feeling nostalgic thinking about what a shame it is that companies of our childhood like Blockbuster, Toys R Us, and Kodak weren't able to compete with Netflix, online shopping, and the transition to everyone having a camera at their fingertips on their phones. Thus was born our costume idea!

I made the Blockbuster costume using just a cardboard box and paint.

I made the Kodak costume using a pop-up outdoor trash can, yellow and black vinyl for the lettering, and cardboard box that I cut for the film.

I made the Toys R Us 'Geoffrey The Giraffe' using a store bought giraffe costume and ironed on the logo with heat transfer vinyl.

I hope our costumes bring back some 90's nostalgia for you too!