Ghostbusters Costume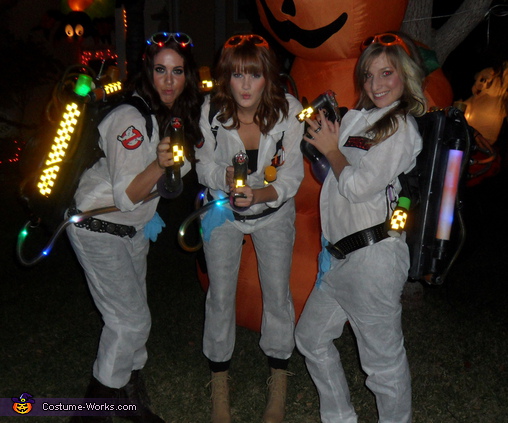 Who you gonna call.....Ghostbusters!!
More views:
(click to enlarge)
A word from Christina, the 'Ghostbusters' costume creator:
Wearing the costumes are Christina Sem, Carissa Lindley, and Whitney Huggins. The idea came to us one night as we all were watching the original Ghostbuster movie. We all looked at each other and decided that would be a great costume for us all three to do. We searched the internet for ideas and started to make our costumes right away. We got supplies from Home Depot, and Lowe's, to make our costume as well as we ordered the lights, patches and guns from the internet. When we thought of how we could make it light up, we thought LED lights. Once we gathered our supplies, we began the creative process. The first one took 3 days to make but after we knew what we were doing the next one took 1 day 1/2. However, all and all we spent 20 hours to create our proton packs.