Flying Monkey Costume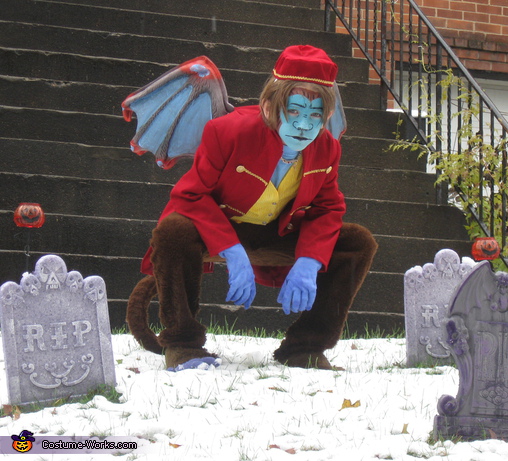 flying monkey from Wizard of Oz, Wicked
More views:
(click to enlarge)
A word from Geneva, the 'Flying Monkey' costume creator:
My son, Elliot, age 9, decided the minute he saw the flying monkeys in "Wicked" what he'd be for Halloween. He came home from NY and read "The Wonderful Wizard of Oz", then watched the movie, checked out the soundtrack from "Wicked" from our library and listened to it OVER AND OVER AND OVER. He was pretty sure - flying monkey. (Chistery was his name in Wicked.)
We found the "bat wings" at Five Below, for $1, and my artistic 13 year-old daughter (in the 2nd photo as Elphaba at Shiz University from "Wicked" doing a "fly my pretties" incantation) highlighted them with some blue 50 cent acrylic paint. (She also did the face painting, by the way with Wolfe face paints she already had.)
The red coat was a lady's blazer from the thrift store - $3.50. I hemmed the sleeves and used the cut-off bits to fashion the cap, along with some discount gold trim and a small length of elastic for under the chin from Joann Fabric. I am a novice seamstress, so nothing was complicated at all. I turned the lapels under and sewed into place, and repositioned the gold buttons so it would look like an old-fashioned military jacket.
I sewed together the 2 pieces from hemming the 2 sleeves for my rectangle - the cap was just a rectangle of fabric, with a circle sewn on for the top. I used some scrap red fabric for the top. Measuring is really not super important for the cap, because you want it to be smallish, like a bellboy hat. Besides, the elastic holds it in place. We placed it BEHIND the ears - makes them stick out more like a monkey's.
I also cut two slits in back of the jacket for the wings to fit through (more authentic - no straps showing) and finished the holes very simply on the sewing machine so they wouldn't rip.
The vest was from a Simplicity costume pattern for a pirate vest I had made a couple of years prior for my daughter. It was super easy to make for a newbie. (I hadn't learned sewing from anyone, just read the pattern. And costume patterns can be forgiving.) I simplified it by using snaps in front; just hammered into place. I used cheap quilting fabric and some fusible webbing for shape.
The pants - fun fur and outlining some sweat pants he had as a "pattern". I folded the fun fur so one side of the pants were already closed - no sewing on one leg anyway, and laid the sweatpants on top, then cut around them. I measured bigger than the pants, to allow for a seam, and too long. No need to hem them, just cut the fun fur. It doesn't really run. I folded over the top for a casing, and threaded through some elastic.
To make a tail, I sewed a length of the same fun fur, inside out, then turned out and stuffed. I stitched that to the back of the pants.
Being detail-oriented, I also made some fun fur spats, cut to fit over the shoes he'd wear.
The monkey feet are an old pair of those cheap dollar store "magic" gloves full of cotton and some twisty ties for shape. They will fit tightly on the end of a pair of shoes. Add spats on top - viola - monkey feet.
Some cheap Dylon dye turned an old pair of white gloves flying-monkey-skin blue.
Including the notions and fabric from Joann Fabric, this costume cost about $20. Yep, some time was involved. (several hours on 2 days) But oh, the compliments he got! Gotta just LOVE Halloween!