Crayola Crayons Group Costume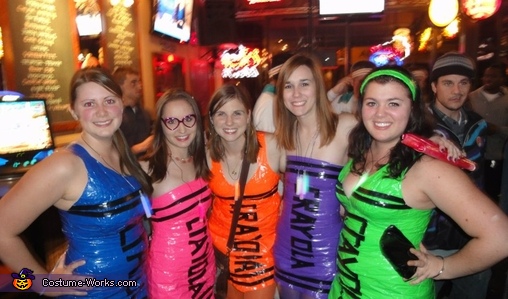 All 5 of the group! One of each color!
More views:
(click to enlarge)
A word from Stephanie, the 'Duct Tape Crayola Crayons' costume creator:
In the picture are some of my roommates and friends from school. We wanted to do something fun and different for our costumes and wanted to go as a group. I suggested crayons. We spent hours looking for fabric and swearing machines and then I decided on DUCT TAPE! Each dress is made out of about 3 rolls of duct tape ($3.50 each) and some pre-wrap (approx $2 a roll). We made what looked like harnesses around our top and then pre-wrap for the inside of the skirt! We had so much fun going out that night and got so many compliments.
Yes, we had to cut the dresses off to take them off (or rip them, but it depended on how many layers of duct tape you used).