Claw Machine Costume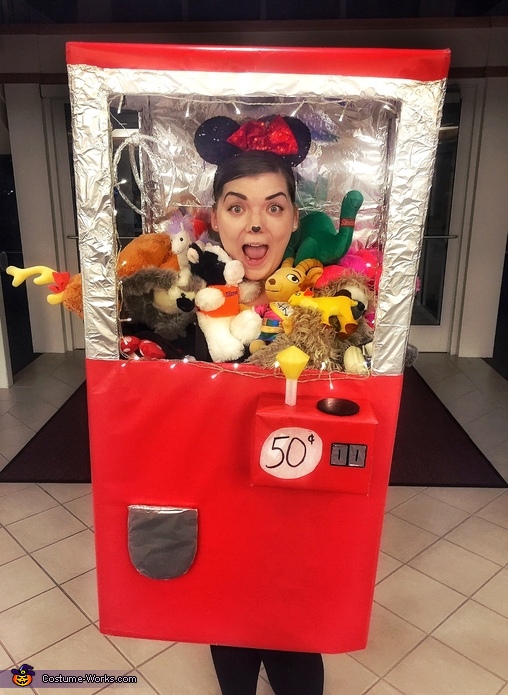 So much fun!
More views:
(click to enlarge)
A word from Elyse, the 'Claw Machine' costume creator:
I love doing large DIY costumes each year for Halloween--I think they're way more fun and creative than a store bought costume. Plus, I love the added challenge of trying to figure out HOW to make my vision a reality. Last year I created a gumball machine costume and wanted to continue with a similar theme this year, but just bigger and better! I love stuffed animals and the claw machine was always a HUGE draw for me as a kid, so it seemed perfect. It was a bigger challenge, I had never seen a claw machine costume before, I knew I would have a ton of fun picking out stuffed animals, and I knew I would get some great looks of shock at various Halloween parties.

My mother said to me when I told her the idea: "But WHY do you always have to be a machine?!" She seemed kind of exasperated at my grandiose and insane costume ideas haha. For some reason, I'm drawn to costumes that use huge boxes, some kind of construction/rigging, and are impossible to sit/move in haha!

I searched high and low for weeks to find a free large box. I went to various stores and recycling centers and found nothing that would be the right size! 3 days before my first party, I bit the bullet a bought a large wardrobe box from Uhaul (about $12).

I debated for a few weeks about how to color the box. Paint seemed fast, cheap, and long lasting, but I was unsure if I could get a vibrant color and questioned if it would dry in enough time for the rest of the steps. Plus, I was worried about my costume smelling like paint/spray paint. I went to a ton of different home improvement stores and talked to the employees about all of these variables--how to decrease odor, types of primer to use for vibrancy, etc. None of the options seemed right. I looked into colored paper, but didn't want to drop $100 + on a huge roll of butcher paper for this costume. In a bolt of lightening, I thought about plain wrapping paper and found some cheap rolls at the Dollar Tree. I only needed less than 2 rolls ($2).

I cut 3 windows out of the box -- all with a 3 inch border. I wrapped the box with the paper--felt like I was wrapping a huge present! I used hot glue to bond the paper and reinforced the corners from tearing with Gorilla Glue clear tape ($6)

Once the box and color issue was worked out, everything else fell together beautifully! I used tin foil (again just a $1 roll from Dollar Tree) for the mirror in the back and the side beams on the front. I used the shiny side of the foil for the mirror and the less shiny side for the beams and window border. I perfectly folded and lined up the foil to create the outside border, using hot glue to bond it to the box.

I used a small box I got from work for free to make the joystick/money area. I wrapped it in the red paper separately and then hot glued it to the larger box. The large button is made from cardboard and colored black (paint or sharpie both work great). I used tin foil to make the coin slots, using a fine black marker to line the edges. I used a small thin piece of paper to handwrite the price with the same fine black marker. The prize slot is made with a piece of cardboard covered in tin foil, glued directly to the larger box.

The joystick presented a huge search for me--I went to every second hand store in a 50 mile area searching for an old video game controller. I couldn't find a single joystick that would work, but found a fun light up wand from the Dollar Tree (love that place! haha). The size and color was perfect and it meant my joystick could also light up, which was even more fun than I originally planned! I made some slits in the small box, in the shape of an asterisk -- that way the wand would snugly fit in the hole and not flop around or slip too far down. I pulled off the rubberized bottom of the wand so it wouldn't pull and tear at the paper when I inserted it as well. The "joystick" stayed in place without a problem and I was so pleased with the result.

I just moved to a new state and had only 2 stuffed animals of my own with me. So I had the insanely fun task of shopping at local Goodwill-type stores for stuffed animals. I went to a few and picked out the most unusual and clean I could find. I had a sloth, lemur, Minnie Mouse, Clifford the Big Red Dog, The Very Hungry Caterpillar, ostrich, hot pink crab, dinosaur, koala with an Australian flag, antelope, unicorn, the dog from How the Grinch Stole Christmas, a cow with a Tillamook shirt (a shoutout to my family in Oregon), and a super random goat/antelope/horned animal wearing a kimono! The total cost of the stuffed animals was about $8.

I pinned each stuffed animals ($1 safety pins) to a zip up fleece jacket. This way, I could easily take the coat on and off and keep all of the animals in their pre-arranged places.

I made the claw from two cheap headbands covered in tin foil, hung with heavy-gauge craft wire. I placed it near the front of the box so it would be easily seen.

As a final touch, I strung up some battery powered LED lights around the front window. I love having a costume that lights up -- makes it even more fun in dark dances and parties.

The most challenging portion of the costume was how to rig it to myself. I made a few preliminary drawings with different options. I thought about arm holes on the side or front, but thought that might be uncomfortable. Plus, I though it would take away from the authenticity -- what claw machine has arms coming out the sides? I wanted it to be as real as possible. I chose some tightly woven nylon straps (like those you'd use to hold a cartop bag to your car). I hotglued them directly to the box and then covered the joints with the Gorilla Glue clear tape. The straps created "suspenders" I could hold on my shoulders.

I finished off the costume by painting my face to look like Minnie Mouse and wore a set of Minnie ears. This was a fun way to disguise me just a little further and look like I was one of the animals inside the machine. I thought that would be more fun that just being a human wearing a claw machine costume. I wanted to be as much a part of the claw machine as possible. My next challenge for a future year is how to eliminate my legs from showing out of the bottom!

A lot of shock and laughter! I wore this first to a work Halloween party. I work for a city, and my bosses made me walk all over City Hall to show every single department! No one else came with me, so imagine just a claw machine with legs hobbling around a few floors, trying to open doors and hit elevator buttons. Everyone took pictures of me to send to their spouses and kids. I won the unofficial costume contest in city hall that day. Each of the children that saw me thought I was real, and wanted to play me and take a stuffed animal!

I then wore the costume to a local dance party--everyone wanted come up and play with the machine too. I got tons of compliments and questions about how I came up with the idea and executed it. I wore it into this dark dance party and made my lights flash in rhythm to the music. I had random strangers asking if they could take pictures with me.

On Halloween, I wore it to a murder mystery dinner. I thought everyone was wearing regular costumes, so I was shocked to find everyone in 1920's attire and I've shown up in a huge blinking claw machine costume! I definitely stuck out! But I didn't feel embarrassed at all because almost every person complimented me on my costume, took my picture, laughed with me, and wanted to sit wherever the claw machine was sitting at dinner! After I left the party, people asked my roommate who she was living with and she just replied "Oh, I live with the claw machine." So I'm now notorious in our new social circle as the claw machine.

My final appearance was at a Chipotle for Halloween dinner. I hobbled in with my larger than life costume. I got a ton of stares and attempted stealth pictures from people sitting at their booths. The employees just laughed as I went through the burrito line and then attempted to eat my meal with the costume on.


I was so lucky this fit in the back of my car! I didn't take that into account at first. It was really difficult getting it in and out of my car for each event, then carrying it up the 3 flights of stairs to my apartment and down again. Additionally, it was pretty rainy that weekend and I had to dodge the weather to get it inside without the water destroying it.

This was definitely the most challenging and creative costume I've made to date. I had a crazy idea, and no plan on how to make it. There was no how-to guide online. There were no pre-made items I could get. I had to make every aspect myself. Total time to make this costume, including shopping and searching, was close to 30 hours. Just constructing the costume was about 10 hours over 3 nights after work.

Trying to track down the supplies (the box and paint or paper) caused me a great deal of stress. I almost gave up making the costume 4 times as I failed at finding boxes and paint at first. I felt really depressed I might not be able to make it a reality. I was tired of going to any store I could find everyday after work to find a box. I was tired after hours wandering around Home Depot, debating about paint vibrancy, odor, drying time, etc. I was so ready to give up and not have any costume this year and that made me so sad! I really had to dig deep, brainstorm more, and continue searching for my supplies to make it happen.

After all the initial struggle, I had no idea it would turn out this great! I am so pleased with how everything turned out and got better reactions than I ever expected. It was definitely worth that struggle and I'm so glad I pushed through it and kept searching and brainstorming to make it all work. It's impossible to sit in, but it's so fun to wear that I wish I could wear this more than the 2 days of the year I got to rock it.