Stuffed Animal Claw Machine Costume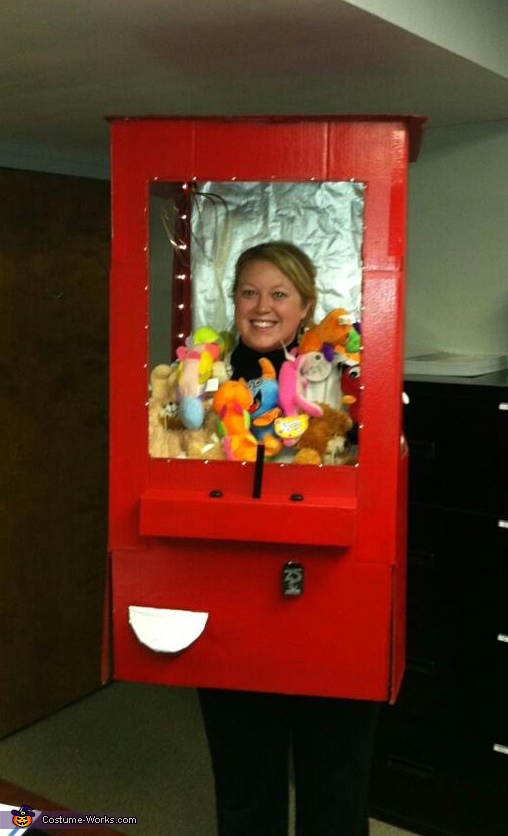 Stuffed Animal Claw Machine
A word from Ashley, the 'Stuffed Animal Claw Machine' costume creator:
I am wearing the costume.
The idea started out as a gumball machine, then kept expanding to a vending machine, and finally settling for a stuffed animal claw machine. I needed something creative for our annual costume contest at work and thought the claw machine would top everything.
It took my husband and me 3 days (with full time jobs, etc.) to complete it. We bought an XL moving box from a construction/home project store. We eyed where we would want everything to go and cut 3 windows in the box. We then took remnants of cardboard (found in our shed) and made the panel with the joytick and the roof. We also used a cooking pot lid to trace and cut half of a circle out of the main box for the "prize flap." We spray painted it red (inside and out). We then put cake stand foil on the back wall with tape and placed foil on the "prize flap" with tape. The lights are battery powered LED lights that are around $7 for a 9 foot strand. These are wrapped around the back wall and the front window only. PVC pipe and felt furniture movers, both colored with sharpie, made the joytick and buttons. The "claw" is a head massager and is tied to the "roof" with a washer and string. The 25 cent money slot is a piece of cardboard colored in sharpie with stenciled foiled cut and taped to it. Dollar Tree stuffed animals were purchased and safety pinned to a white tshirt. We also taped one in the claw for the contest. The box sits on my shoulders by using twine, tape, and paper clips hooked in the front and back of the box. All together, we may have spent $35-$40. It was such a fun project and you can really get creative! Needless to say, it won the work costume contest.