Circus Family Costumes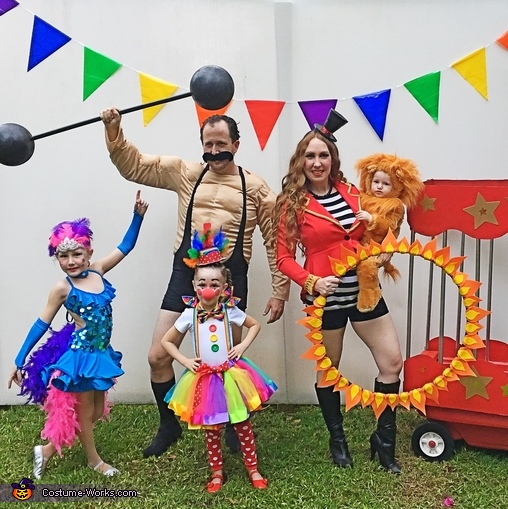 Circus Family Costumes
A word from Lauren, the 'Circus Family' costume creator:
Mom (Lauren Castine) - lion tamer
Baby (Blakely) - lion cub
Dad (Kevin Castine) - strong man
Oldest daughter (Kendall) - tightrope walker
Middle daughter (Leighton) - clown

We always say "our family is a circus!" So the idea just came to us on a particularly crazy day. I believe in home made costumes every year but I ordered bits and pieces to make it easier...the strong man suit was purchase but we made the barbell out of styrofoam balls and pic pipe. The lion costume was store bought but we created the entire lion cage out of cardboard and pic pipe and spray paint. I embellished a jacket for the lion tamer and make the flame hoop out of an old hula hoop. My daughters tightrope walker costume was an old dance costume that we added feathers to and I made her a matching headpiece. The clown costume was pieced together from a colorful tutu, printed leggings and I sewed the huge buttons to the front of a leotard. We also made her clown hat and huge hair bows. We had a blast being the circus...we even had the circus song playing as we walked down the road in our neighborhood!