The Family Circus Costume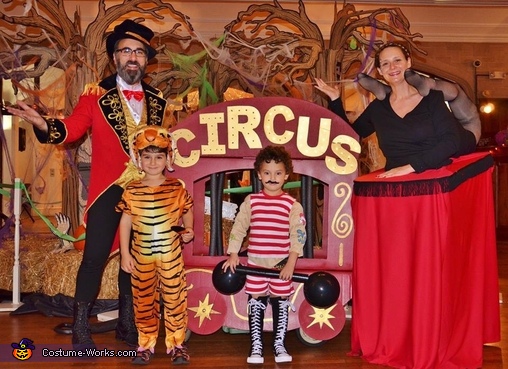 The Family Circus
More views:
(click to enlarge)
A word from Amy, the 'The Family Circus' costume creator:
Our two sons, ages four and six, came up with a circus theme for our family costume. My husband is the ringmaster, and I am the contortionist. Our six-year-old son is the tiger in the circus car, and our four year old is the strong man who is strong enough to pull the circus car! The circus car is made out of three separate cardboard boxes which we painted, secured together with velcro, then made a frame out of PVC pipe to anchor to a wagon. We poked holes in the "circus" letters and added battery powered string lights. For the contortionist costume, the legs are made out of swimming pool noodles, copper wire, and quilt bunting all stuffed inside layers of pantyhose. For the strongman, I started with
Christmas pajamas and cut off the arms and legs. I painted tattoos on a stuffed muscle shirt. His barbell is made from a cardboard tube and balloons. For the ringmaster and Tiger, I started with basic store-bought items and embellished with Fringe, glitter, paint, and iron on- embellishments. The tiger's flaming hoop is a hula hoop with gold tinsel adhered with double sided tape.