Chiquita Banana & the Jolly Green Giant Costume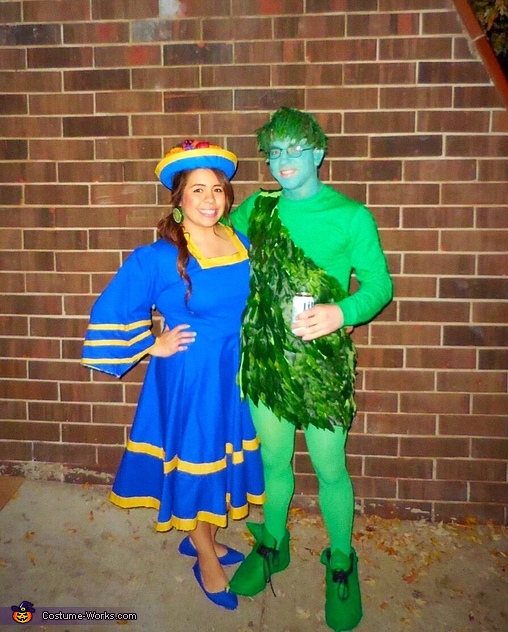 Chiquita Banana and the Jolly Green Giant
More views:
(click to enlarge)
A word from Vivian, the 'Chiquita Banana & Jolly Green Giant' costume creator:
I am the Chiquita Banana. I made a version of her skirt and hot glue gunned it onto a blue t shirt. I made the sleeves out of the same fabric I made the skirt out of and hot glue gunned it onto the sleeves of the blue shirt. The hat is a made from styrofoam and covered with blue fabric. I glued the fruit together in a mound shape and attached it to the hat. I had extra plastic lime slices and glued them into the front of an old pair of hoop earrings.

My husband is the Jolly Green Giant. He has green tights and a long sleeve green shirt on. Toga is made up of leaves glued onto a shirt that was cut into the shape of a toga. For his shoes, I cut felt and glued it on the outside of an old pair of basket ball shoes. His wig was originally blond but I painted it green and glued some leaves into the hair. We used store bought paint for this face.