Chimera and Lady Jaguar Costume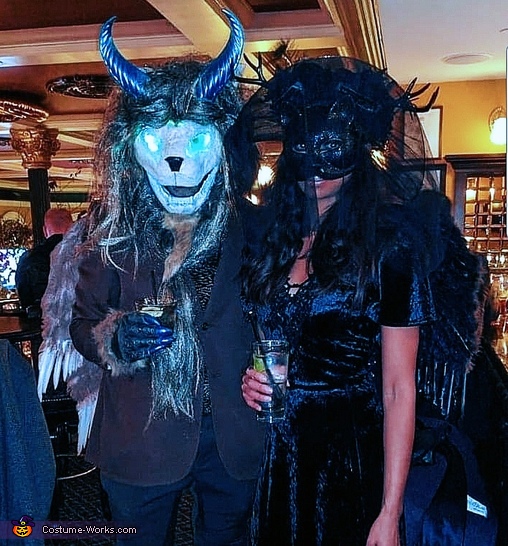 Chimera and Lady Jaguar Costume
More views:
(click to enlarge)
A word from Michael, the 'Chimera and Lady Jaguar' costume creator:
I am dressed as the Chimera and my girlfriend, Laveda, is dressed as Lady Jaguar. Our designs were inspired by the theme of "mythical monsters". We sourced the supplies for our costumes mostly at thrift stores. Paint and hot glue came for our own secret stashes and craft stores. Our costumes cost us approximately $200 between both of us. That is due to us having some art supplies already.

Lady Jaguar is wearing a black velvet dress with black wings and a handcrafted antler crown adorned with flowers on top of veiled hat. Laveda spent hours carefully selecting and painting flowers for her crown which are hot glued in place along with an assortment of feathers. Laveda used a gloss medium to seal the sparkles on her mask in place which is a great idea for anything involving sparkles. Laveda attached long black claws to her lace gloves by poking the claws through the finger tips of the gloves and bonding them with a combination of hot glue and black ductape.

The Chimera's clothes were sourced from thrift stores. The fur from a previously ripped stuffed animal were used for the boot coverings. Foam sheets were used to craft the "goat leg" shape.

The mask was built on top of a cat skull mask. A green plastic christmas ornament was cut in half and covered with one way chrome sheets from the inside. "Teal" Christmas lights were placed on the inside of the mask to create the glow. After building the "muscle" of the face using foam, hot glue and ductape it was covered in felt. The main is a combinated of faux fur and an old pirate wig/beard combo from the thrift store.

The Chimera's wings are actually two wings on each side attached together with wire. Part of an old music stand was attached to suspenders to create a harness that enabled me to flap my wings by pulling a chord.

We really enjoyed crafting these costumes and if you thrift to build costumes like us, I think one of the most important things to note is that it is good to give yourself time to look for the right pieces that fit with your vision. Great to see all of the wonderful costumes this year and hope everyone had a happy and safe halloween.