Big Juvenile T-Rex Costume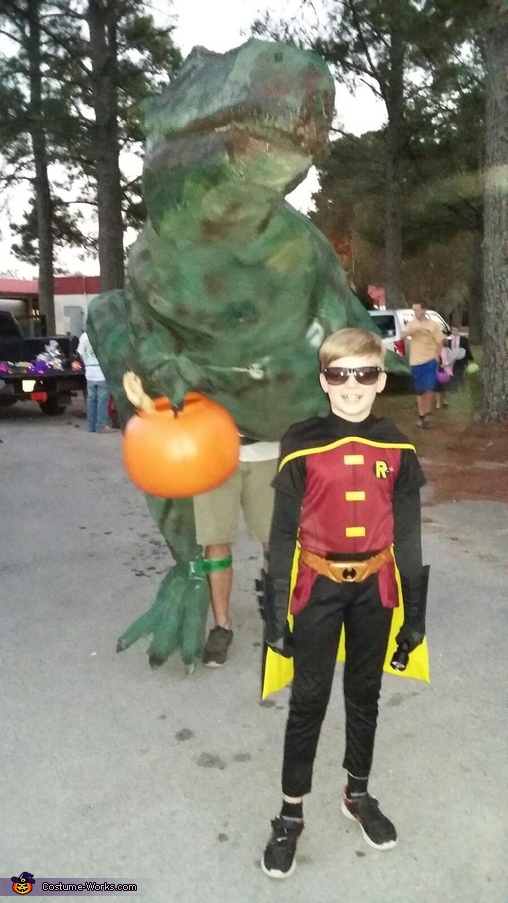 At a local trunk or treat on the trial run with my son.
More views:
(click to enlarge)
A word from Keith, the 'Big Juvenile T-Rex' costume creator:
My son. He comes up with the ideas and puts me to work. He tasked me this year to make a walking dinosaur costume. I ended up making two. My son's costume was made first and i was on a serious learning curve making it. By the time i got to making the big t-rex, a lot of the problems i had with my son's costume no longer were a problem making the big one.

I started out with metal conduit pipe and made hoops. I welded them to more conduit to make a body. I made the head out of "great stuff" expandable foam. I have a video i put on youtube of how i carved the head to make it look like a t-rex.

The rest of the t-rex is covered in foam rubber....and a lot of it. i cant even begin to guess how many trips to walmart we made for 1/2 inch, 1 inch thick foam, and 3 inch thick seat cushion foam. oh, and close to 10 cans of 3m 90 spray adhesive.

if i had to guess, id say i have about 700 dollars in it. but it was worth it. I had my son in the shop with me a lot, and he was helpful in the building and painting.

Inside the costume is 2 monitors and 2 cameras. We did a trial run last weekend at a local charter school "trunk or treat" and found a few problems. Nothing major. one camera needed to be replaced with a night vision camera.

We also have a 20 watt amplifier in the costume hooked to 2 speakers. I made an app (custom soundboards) to play dinosaur sounds that i downloaded from a youtube video and chopped up using a ringtone maker.

my legs attach to the dinosaur so it looks pretty real. we have handle bars inside that allow the head to move from side to side and up and down.

it stands about 8 or 9 feet tall. its about 4 1/2 feet wide and 16 feet long! it weighs about 80 pounds. i bent pipe into a "j" so i could carry the weight on my shoulders. I covered the pipe with a big foam pool noodle so it wouldn't be too uncomfortable.

oh, there's a bike brake cable hooked from the handle bars to the head so the mouth opens and closes too. I wanted to make teeth, but the way the mouth closes, i think it would possibly hinder the mouth from fully closing.