Big Hero 6 Costume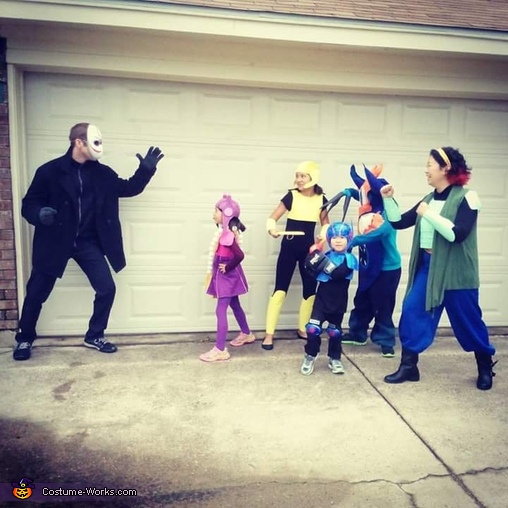 Honey Lemon, Gogo, Hiro, Fred, and Wasabi vs. Professor Callahan
More views:
(click to enlarge)
A word from Amie, the 'Big Hero 6' costume creator:
Our theme was the animated version of Big Hero 6.

All base costumes were thrift shop finds or things we had on hand. Black leggings, sweatpants, long sleeved shirts, sparring gloves, peacoat, etc.

Callahan was a black base with a white mask we pained to look like the kabuki mask. Super simple.

Honey Lemon and Wasabi's armor were made with colored duct tape over paper grocery bag patterns. I measured and cut the bags according to what pieces I was going to need and then covered the pieces with duct tape front and back. The pieces were then taped to themselves or attached with self adhesive hook and loop depending on if the piece was stationary or needed to move (like the shoulder pads).

Wasabi's pants were a basic parachute pants pattern.

Honey Lemon's bag is made with pingpong balls over a string of colorful battery operated LED lights all duct taped in place and covering the wires. The bag itself is duct tape over a paper bag pattern and the remaining lights and battery pack are stored in it. The bag's "control panel" was going to be made of craft foam but I ran out of time. As a side note, this was the ONLY time I have EVER been thankful that Christmas displays are put out before Halloween nowadays ;)

Hiro and Gogo's armors were made with pieces of craft foam. I used the same idea of customised patterns from paper bags but I then traced that on to the foam and cut the foam out. The pieces were then hot glued together or attached to self adhesive hook and loop like the other armors.

Gogo's disks were 99 cent flying discs from the pet section of Walmart. I painted on dots and glued elastic to the backs to make them wearable.

Hiro's elbow and knee guards were painted skateboarding pads.

All helmets were multiple layers of paper mache over balloons. They were then painted and the extra wings and things were glued on craft foam.

Our Baymax was our trusty wagon with a white balloon face and an Incredible Hulk fist painted to look like the rocket fist complete with craft foam flames out the back.

Fred took me a very long time to figure out how to make. The costume was made almost entirely out of felt. The base costume is a pair of dark blue sweatpants with painted bottoms and a sweatshirt that i attached stitched and lightly stuffed flames on the forearms to. The face is mainly a mixture of different colored felts and acrylic paints cut and sewn together. The top eye is where my son's head is. That eye is made with a scrim like fabric with a pupil painted on. The entire "hood" is actually only attached at the back. It then flips over the head and tucks into the neck so if my son wanted to see better be could just flip The good back. The claws are cut pipe insulation hot glued to the thumb, index, and ring finger of a pair of gloves.

All and all there was a lot of work involved but the expense was minimal per costume. The strand lights were around $8, $8 for the pingpong balls, fabric for Fred and Wasabi's pants was maybe $12, $16 for all the duct tape, $2 newspaper, lots of 90 cent craft foam, $3 for foam insulation, self adhesive hook and loop $4, and a $1 pack of gum.