Big Hero 6 Family Costumes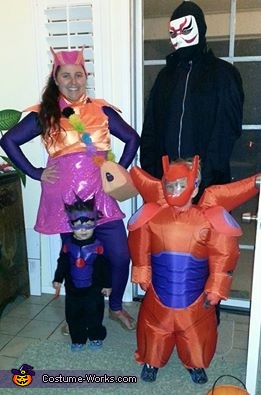 Family Picture!
A word from Sherri, the 'Big Hero 6' costume creator:
This was last years costumes. We always have done a family theme. We had Professor Callahan, Honey Lemon, Baymax and Hiro

Prof. Callahan - I hand painted / cut the mask and made his shirt and trench coat. We wore these in Disney world and figured a standard trench coat would be too warm so made a light weight one.

Honey Lemon - All handmade. I got material and made the underclothes as I couldn't find a one piece in the color. Her armor was cut from craft foam then covered in fabric. The bag was a old purse recovered and I added the ball strap. I also cut a hole in the bag and could pull colored balls out of it to give to kids. The mask was cut out of felt and sewn together.

Baymax - This one i couldn't make so we found a awesome inflatable that was way to big but made it look even better because of it.

Hiro - I needed something comfy for my little one so I designed and cut/heat pressed his shirt and pants and it worked perfect. The mask was cut out of felt and sewn. We used black hair spray for his spikes!