AT-AT Imperial Walker Costume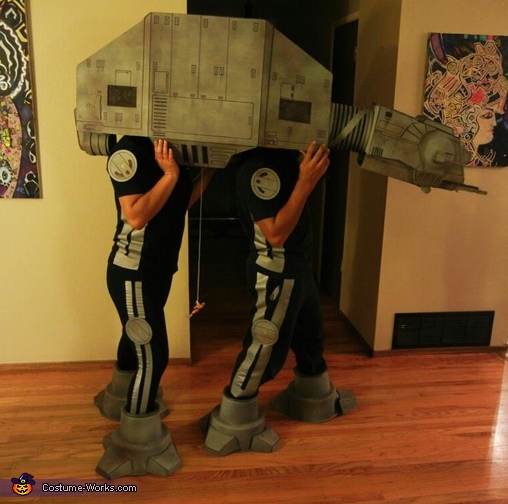 All done! Luke, we're coming to getcha!
More views:
(click to enlarge)
A word from Ismael, the 'AT-AT Imperial Walker' costume creator:
After winning the Best Men's costume contests at our friends' Halloween parties for a few years in a row, my wife wanted in on the action. So I spent the summer thinking of an awesome couples costume, and thought back to my childhood... I've always wanted an AT-AT Walker, but why not BE one?! The creative bug bit hard and I spent all of September building this costume from scratch. From the dollar store trashcans used for feet to the old computer parts on the body, everything is homemade. I even have the Imperial Walker LEGO men in the bridge (which lights up red btw!). 60+ man hours to create, but well worth it. Can't wait to stomp around the neighborhood. My wife said she loves it, I said, I know.