Amelia Earhart Costume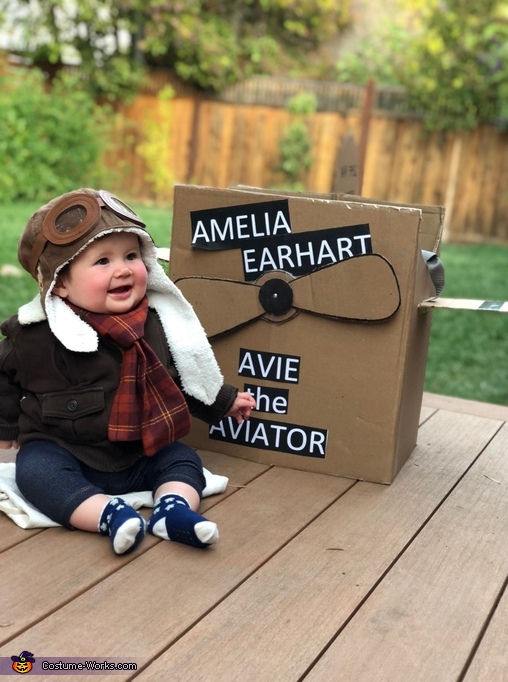 Avie the Aviator as Amelia Earhart
More views:
(click to enlarge)
A word from Nettie, the 'Amelia Earhart' costume creator:
Avie, 7 months old, channeled her inner Aviator for Halloween 2018 by dressing as Amelia Earhart. Her name is pronounced, A-V, and has inspiring thoughts of ĎAvie-ationí. Dressing like Amelia Earhart would be the only costume fitting for such an ĎAvie-atorí.

Avieís mother is a NASA aerospace engineer and spends her day researching and testing the next generation of aircraft. She wanted to use Avieís first Halloween as a great opportunity to promote powerful women and use Ms. Earhartís story to remind others women are powerful, persistent, and strong. Even though Avie may be too young to remember the details of her 1st Halloween, the pictures of her flight will be a wonderful way to remember when she is older that she too is strong and has the ability to accomplish great feats in her life.

Avieís costume was comprised of an aviation-style jacket bought from an online thrift store ($13), a bow ($5) repurposed as a scarf, and the essential aviator cap ($7). Avieís airplane was built from a recycled cardboard box, packaging tape and some electrical tape to add definition to the wings. Wings, tail, and a propellor were crafted from the top and bottom flaps of the box. The whole cardboard airplane came together in about an hour. The airplane was built to mimic the single-prop plane, Lockheed Vega 5B, Earhart flew while setting two records, first woman to fly over the Atlantic Ocean and first woman to fly over the United States.

Since Avie is only beginning her flight her on Earth and not quite walking yet, it was essential to have a plane that would allow Avie to have a seat in the front of the plane, as Amelia would be, and her mother would ride behind as her navigator while exploring the neighborhoods on Halloween night. Avie was strapped to her mom using a baby carrier while the airplane hung around momís neck using one of Avieís favorite toys, a simple strap. Like many other kids, itís the simple things like cardboard boxes and straps that tickle Avieís fancy. You could hear her little feet kicking the box in excitement the whole night. It was a joy-filled, inspiring 1st Halloween for Avie and her parents!

Avie was greeted with many adoring fans everywhere she flew on Halloween! She visited NASA on Halloween to display her costume and inspire others in the field of aviation. The crowds gasped in amazement of the creativity and cuteness inside of a cardboard box airplane. As Avie flew around the neighborhoods Halloween evening, children and adults were
inspired by her costume and commented it was the best and most creative they had seen!