Alien Abduction Costume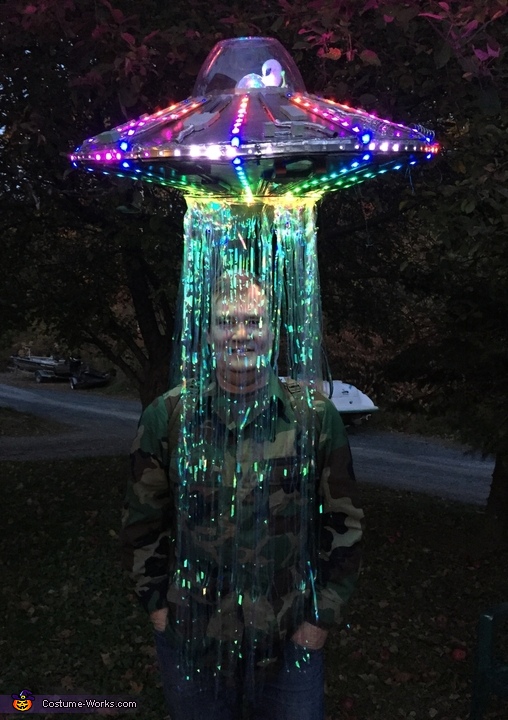 First time putting it on
More views:
(click to enlarge)
A word from Jeff, the 'Alien Abduction' costume creator:
Alien abduction is made using sheets of foam-core posterboard, and stablied with spray-foam insulation.
The costume has 750 color LED's which can produce 16million colors. Each LED is individually controld by an Arduino microprocessor and code I wrote myself.
The lights on this costume cost aproximately $100.
The rest of the costume is just stuff I pulled out of my closet.
The battery pack which goes in the backpack has enough power to run the costume for about 20 hours continuously.
Instructions:
The space ship is made from dollar store items and a $5 can of sprayfoam.
I got 4 foam-core poster boards, taped them together, and drew a large circle using some string and a pencil.
I then drew lines that divided the circle into 12 pieces. I cut them all out. Then duct-taped them back together again - minus 1 piece. do this twice (top and bottom) and this creates the saucer shape.
Some more ducttape and you've got a space ship.
I used two cheap hook style canes that I found at a bargin center as support poles (using just one made it wobble too much),
I cut two holes into the saucer bottom. next I proped the saucer up with two chairs and put the poles into the holes so that the poles stuck up about 4 inches from the saucer bottom. Then I spray-foamed a mountin of foam over the poles and let it dry. Once dry I pried loose the poles. and removed them. they can then be put back at will.
I trimmed the dried foam so that it didn't interfere with the top half of the saucer. It remains very light but ridged.
The lighting was all custom progammed but since then I found a $4 controller with remote that can do the exact same thing.
The lights are WS2812b LED strips. Each lights color can be set to any of 16million colors. ($40 for 10 meters but the price comes down every month!)
I used several large USB battery-banks to power all the leds. 20,000mah battery banks can be bought for about $12 and can power the costume for many hours.
The bottom had several concentric cirle LEDs, which spun around making the effect of a beam, in addition to the clear cellophane curtain. I stuck the poles into a backpack and spray foamed them into place permanently.