A Shark Coming out of a Tidal Wave Costume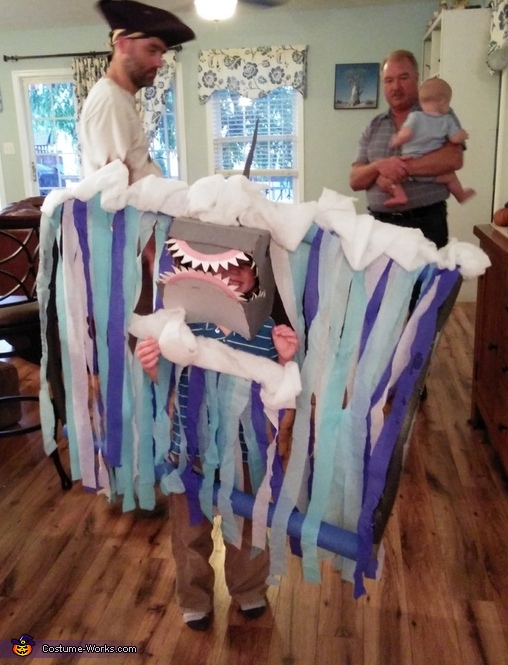 A Shark Coming out of a Tidal Wave Costume
More views:
(click to enlarge)
A word from Jessica, the 'A Shark Coming out of a Tidal Wave' costume creator:
A mom had a dream . . . could she get her whole family costumed for under $60, and could they all agree on a theme? Well that dream came true and our family had fun with their Ocean themed do-it-yourself costumes. Our middle son loves sharks, but he did not want to just go as a shark, he wanted to be a shark coming out of a tidal wave. Here's how we did it;

Shark coming out of a tidal wave—I constructed the shark head and fin with cardboard and duct tape, painting it gray. For the teeth I took 2 paper plates and cut triangles into it, painting the gums pink. The eyes were 2 black buttons I glued onto the head. For the tidal wave I bought a couple of pool noodles and some different blue colored streamers for about $6 total and found some polyfill fluff for about $1 at the thrift store to make the foam on the crest of the wave. I wired the pool noodles together into a rectangular frame and duct taped the top of the shark head to the top noodle. Then I glued the streamers in long strips around the head, topping off with gluing the polyfill on the top noodle and around the head to resemble sea foam.