Zoltar Costume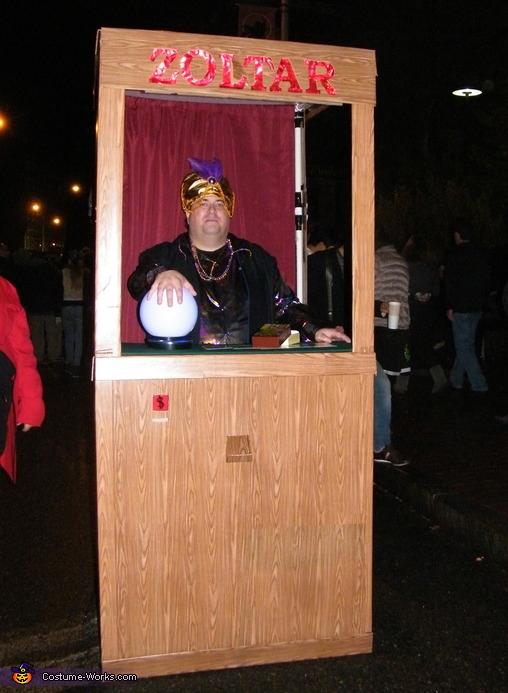 Zoltar Costume
More views:
(click to enlarge)
A word from Joshua, the 'Zoltar' costume creator:
I am wearing the costume. I came up with idea while visiting an arcade on Salisbury Beach, Salisbury, MA. I saw the original Zoltar machine and thought it would be a great costume.

The box surrounding me measures 36" x 36" x 84". The frame was made using 3/4" pvc pipe and a lot of duck tape ( I don't like to cement the pipe together as I may be able to salvage it for future costumes.). Mounted on the bottom back 2 corners are old lawnmower wheels to make the box mobile by lifting the front end a few inches by hand and walking.

The back drop inside is a pair of old window curtains.

The outside skin of the box is made from cardboard covered with vinyl shelf paper to make it look like wood grain. The corner molding is made from heavy duty cardboard corner protectors used for shipping pallets of boxes, also covered with vinyl shelf paper. It is all attached to the framework using strips of Velcro to make it easy to break down to fit in my small car. (Note to for next year... Measure car and all building doorways before designing such a large costume)

The Zoltar sign was bade by cutting the letters out with an crafting knife and covering the back side with red cellophane. Also behind the sign were 10 red LED lights with tin foil as a reflector.

The tray table my hands are resting is a piece of 1/4" MDF covered in green felt. I glued an arrangement of tarot cards to the surface as well as a small box filled with business card sized fortunes that I could hand out the slot in the front panel.

My crystal ball is made from the cover of a ceiling fan lamp and a base filled with LED lights.

On the back of the box, I designed a framework of 3/4" PVC pipe wrapped with bubble wrap and covered with old clothes, a foam head from a beauty supply store and a wig, to make a dummy that looked like he was pushing an old arcade machine down the street.

The only parts I didn't make were the shirt I am wearing and the turban. The black vest is hand made for another costume I have.