Willy Wonka and Friends Group Costume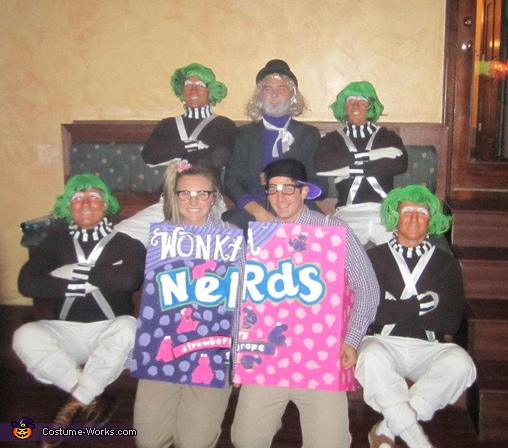 altogether at a club in morgantown
More views:
(click to enlarge)
A word from Benjamin, the 'Willy Wonka and Friends' costume creator:
"Come with me, and you'll be, in a world of pure imagination."
This is a picture of the special teams unit (football) at Fairmont State University in West Virginia. The long snapper (Dereck Sevier) is dressed as Willy Wonka, The starting kicker (Frank Keenean), punter (Benjamin Landis), field goal holder (Michael Keim), and assistant coach (Tom Keenan) are all oompa loompa's. The nerd box is worn by Brittany Lee and Nick Higinbotham.
All outfits are homemade with the excemption of the wigs. We purchased 5 wigs and painted them accordingly.
Our idea came one night when Willy Wonka and The Chocolate Factory was playing on TV (original movie). We were looking for a group costume and this naturally made perfect sense. We enjoy making homemade group costumes every year. Last year we made a bobsled that was portable and dressed as the Jamacian Bobsled team. This year was just as successful!